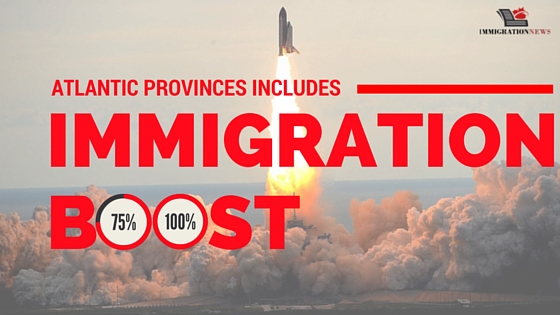 The federal government is partnering with the four premiers in Atlantic Canada to launch a new Atlantic growth strategy aimed at stimulating economic development and increasing job opportunities in the region.
The announcement was made at a news conference in Prince Edward Island on Monday following a meeting between the four Atlantic premiers — P.E.I. Premier Wade MacLauchlan, New Brunswick Premier Brian Gallant, Newfoundland and Labrador Premier Dwight Ball, and Nova Scotia Premier Stephen McNeil — and several federal ministers.
A cornerstone of the plan is a three-year immigration pilot program which aims to bring thousands of new immigrants to the region. The premiers also said they'll focus on other priority areas to build their economies, including innovation, trade and investment, and infrastructure. Finally, they said they'll look to create growth and development while switching to a low-carbon economy.
"To build on our successes and create sustained prosperity for Prince Edward Island, we must grow our workforce and continue to foster an environment of innovation and entrepreneurship," P.E.I. Premier Wade MacLauchlan said in a written release.
"Working together with our Atlantic, federal and community partners, we will grow our population and create economic opportunities for all Islanders and for the Atlantic Region."
3-year immigration pilot
The plan includes a three-year immigration pilot project aimed at "addressing the unique labor market challenges in Atlantic Canada."
The pilot aims to match the needs of local employers with the skill sets of immigrants, and efforts will be made to expedite the credentialing of new immigrants.
Federal Minister of Immigration, Refugees and Citizenship John McCallum said he's heard "loud and clear" the message that Atlantic Canada wants to draw more immigrants to the region.
Officials plan to admit up to 2,000 new immigrants and their families to the region in 2017. That number could rise in following years depending on how well the project performs.
"So it could be something like 4,000 people, and that number is scheduled to rise in coming years, depending on how well we do," said John McCallum, the federal minister of immigration.
He said the immigration component will be largely driven by the provincial governments and their specific needs.
"We will be open to a variety of skill classes, and we, in my office, will work with each government to develop a plan specific to their own province with a focus on particular occupations, particular regions and with a focus on engaging companies to not only recruit the immigrants but to undertake measures to keep them here," he said.
Investing in residents
McCallum said while the program will be a pilot project in Atlantic Canada, it could be the model for the rest of the country in years to come.

When asked what's being done to entice people who have left their provinces to return, New Brunswick Premier Brian Gallant said attracting new people and repatriating residents is all part of the same effort.

MacLauchlan agreed.

"I truly believe by succeeding on immigration we will make Prince Edward Island a more attractive place in terms of repatriation," MacLauchlan said.

He said the workforce in his province must grow in order to create sustained prosperity.

Newfoundland and Labrador Premier Dwight Ball said while increased immigration is necessary, it doesn't mean that existing residents that are unemployed will be overlooked.

"Newfoundland and Labrador will always continue to invest in our residents who are ready and looking for employment. We will continue to train those that are under-skilled and looking for work," he said.

Ball also stressed that the immigration plan is only one of the five pillars of the new Atlantic Growth Strategy.

[pro_ad_display_adzone id="37″]
Leadership committee
The four premiers and  federal ministers — Minister of Immigration, Refugees and Citizenship John McCallum, President of the Treasury Board Scott Brison, Minister of Fisheries, Oceans and the Canadian Coast Guard Dominic LeBlanc, Minister of Innovation, Science and Economic Development Navdeep Singh Bains, and Minister of Public Services and Procurement Judy Foote — have formed a leadership committee to oversee the plan.
The first phase of the plan is expected to be implemented by the end of the year.
Federal Agriculture and Agri-Food Minister Lawrence MacAulay hosted the premiers and cabinet ministers in a barn on his property in St. Peters Bay.
Source: CBC.CA