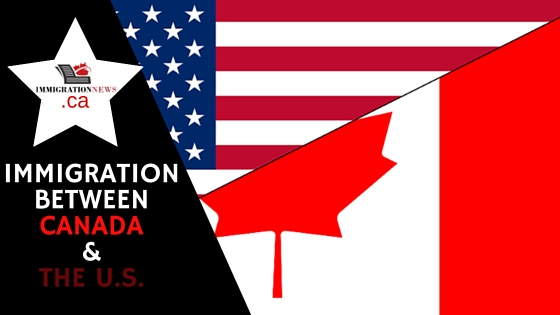 As the United States grapples with the fate of millions of undocumented immigrants following this week's Supreme Court decision, Canada is making an aggressive push to attract the best and brightest workers from across the globe. It's been more than a year since Canada launched Express Entry, a tool that makes it easier for potential immigrants to receive permanent residency, and marks a sharpening contrast in immigration policy between the United States and its neighbor to the north.
The best way to describe Canada's new application system for skilled immigrants is to compare it to online dating. Foreigners around the world who want to emigrate to Canada fill out online profiles with their age, resume, language skills, education, and much more.
Federal workers then peruse their profiles, which are ranked based on the applicant's chance of economic success and integration. Though it doesn't use a matchmaking algorithm, the system does award the most points to those it considers the best candidates. People get points if they already have a job offer. They can also rack up points depending on how well they speak English and French, whether or not they are young, and whether or not they have work experience in a high-demand field.
Potential immigrants with high rankings are invited to apply for permanent residency. No quotas, no caps, just the federal government skimming off the top every two-to-three weeks. People without enough points to make it to the top of the candidate pool can stay in the database for a year, and employers searching for foreign talent can find them, knowing that they have already been pre-screened by the federal government and therefore can likely have them start working within six months.

This is Canada's new Express Entry system, and, of course, it is more complex than an online matchmaking website. Not just anyone can make it into the pool of eligible immigrants. Anyone who wants to apply for permanent residency must have a basic grasp of English or French and have work experience.

The Express Entry system, which was launched in January 2015, has been described as "revolutionary" and the most "fundamental reform" to Canada's immigration system in decades. It's a tool that basically throws away the traditional, first-come-first-serve model that Canada—and the United States—has long followed. What it means in practice is that Canada can be pickier.

"Now the government is not obliged to invite everyone to apply," says Maria Vincenza Desiderio, a policy analyst at the Migration Policy Institute, which recently published a report on the Express Entry system. Before, immigrants had to acquire a certain amount of points just to wait in line. Now, accumulating more points will actually get someone to the front of that line.

Desiderio's research shows that the Express Entry system was designed to overcome two major hurdles in the Canadian immigration process. One was that skilled immigrants to Canada found themselves overqualified for many jobs, or with skills that didn't match job openings. That led to  high unemployment rates, compared to native Canadians. Another problem was that applicants were waiting up to six years for approval or rejection. The Express Entry system seeks to overcome those barriers by prioritizing immigrants with in-demand skills and job offers.
Could a system like this work in the United States? To answer that question, it's important to understand the philosophical differences between how the countries view immigration.
Both share a history of once excluding non-white immigrants, such as the Chinese, and welcoming those from white, Western European countries. (At one point, Canada banned black immigrants from the United States.) That began to change during the civil rights era and the landmark Immigration and Nationality Act of 1965, which opened the United States to more immigrants from non-Western-European countries. Canada passed a similar law in 1962.
But since then, the United States and Canada have diverged in their views on immigration. Canada has fostered an immigrant-friendly reputation, regarding newcomers as a boon the economy and multiculturalism as an asset. In the United States, where the general population is nine times larger than Canada's, immigration is a much more polarizing issue, with many perceiving foreigners as a threat to the American workforce. There is another big difference: Canada favors economic immigrants, while the United States gives more green cards to those with relatives in the United States. For 2016, the United States set an estimated limit of 226,000 for extended-family-based green cards, and 140,300 for economic immigrants.
[pro_ad_display_adzone id="37″]
The focus on family-based immigration, versus economic immigration, stems from the federal government's hands-off approach to labor market policy, says James Witte, executive director of the Institute for Immigration Research at George Mason University.
"The idea is so foreign to the United States," says Witte. "There is a disconnect, because labor market policy is usually handled by local and state governments."
The United States has generally handled foreign-labor demand through temporary visas and guest-worker programs. Yet tech companies seeking to increase the number of visas for STEM workers, or farmers lobbying for expanding guest-worker programs are met with fierce opposition from American labor unions. The result has paralyzed American immigration-reform efforts.
The Express Entry system does have some drawbacks, according to Desiderio's report. For example, in its first year, the Canadian government invited 28,000people to apply for permanent residency, but only about half actually did. One explanation is that the 60-day deadline to submit the application and paperwork is too short.
It's too early to see the impact of Canada's new system, but one thing is clear: It is much easier, and faster, for skilled workers to emigrate to Canada than to the United States. Skilled workers in the United States are waiting anywhere from five to 11 years to get green cards. Canada is now averaging about six months.
Source: theatlantic.com