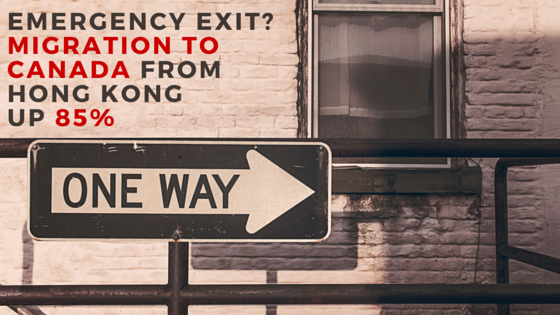 The number of Hong Kong immigrants admitted to Canada from January to March has increased by 85 percent compared with last year, according to Ming Pao East Canada edition.
The statistics provided by the Canadian government's Citizenship and Immigration Canada (CIC) revealed that there were 300 immigrants from Hong Kong in the first three months of this year, up from 162 in the same period last year.
Meanwhile, there has been a 17 percent increase in number of immigration applicants from Hong Kong in the first quarter, compared to the same period in 2015.
Nancy Caron, spokesperson for CIC, told Ming Pao East Canada edition that the increase in Hong Kong immigrants was directly related to the increase of applications in 2014. She added that Canada is a popular country for immigration.
Figures from the Security Bureau showed United States as the most popular destination for immigrants from Hong Kong last year. Among the 7,000 Hongkongers who emigrated, 2,100 went to the United States, while 2,000 and 800 chose to go to Australia and Canada respectively, Apple Daily reported.
IT sector lawmaker Charles Mok told Oriental Daily that the increase in Hongkongers migrating to Canada was related to the city's atmosphere and the poor administration of the government. He added that since education policies were frequently criticized, it is not surprising to see Hongkongers moving abroad for overseas studies.
Source: hongkongfp.com