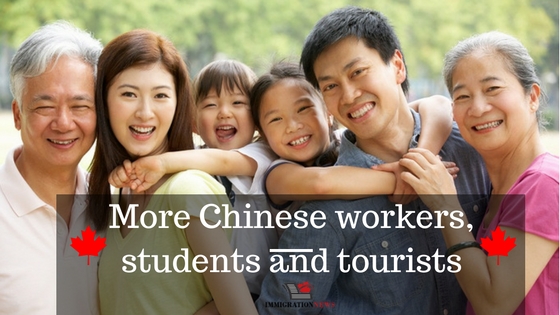 Immigration Minister John McCallum says the Liberal government is trying to make it easier for Chinese tourists, students and temporary workers to get visas to come to Canada — but not to the overheated housing markets of Vancouver and Toronto.
McCallum said he had "very positive and open" discussions with Chinese officials last week, seeking permission to double or triple the number of visa application centres where Chinese people can apply to come to Canada. There are currently five, including Hong Kong.
"They didn't say yes, but they certainly didn't say no," McCallum told reporters in Vancouver after a roundtable discussion on immigration.
The federal strategy to attract Chinese workers and others comes at a time when debate about the role of foreign money in Vancouver's skyrocketing house prices has reached a fever pitch.
McCallum said he heard nothing in China about B.C.'s controversial new property transfer tax for foreign buyers of Metro Vancouver homes.
"I was a little surprised," remarked McCallum. "I thought it might be raised, but nobody raised it and I didn't raise it with them," he said.
Not just Toronto and Vancouver
In today's scrum, reporters asked what the Liberal government would do to make sure its immigration push didn't put more pressure on hot housing markets.
McCallum said the government's intention is to encourage immigrants to settle outside of Vancouver and Toronto.
"We would like to spread the immigrants across the country relatively evenly," said McCallum.
"The last thing we want is every immigrant goes to either Toronto or Vancouver."
McCallum said he's hearing appetite for more immigration at his consultation sessions across Canada, especially in the Maritimes with an aging population.
"There's a significant feeling that Canada does need more immigrants, partly because we have an aging population, and so we need more young blood to keep our economies going."
But McCallum admitted the government can't require immigrants to live in certain places, as Quebec's immigrant investor program has shown.
"That is against the Constitution of Canada. If they are permanent residents, we cannot require them to stay anywhere. They have the right to live anywhere in Canada they wish to live."
Chinese visas up
McCallum said visas have been increasing from China, to about 500,000 per year, but opening more visa offices could help Canada compete for Chinese workers, students — and lucrative tourist business.
"It's the biggest market in the world and they spend a lot of money," he said — on average $750 US per day on a trip to Canada.
McCallum reiterated his enthusiasm for attracting international students from all countries, including China.
He said the Liberals will give international students an advantage in the express entry system to obtain permanent residency by giving them more points in the system for their student status.
"If you ask me what is the best group of people in the world to become future Canadian citizens, I would say international students," said McCallum.
"We want international students to come to Canada, not necessarily to Vancouver," he said.