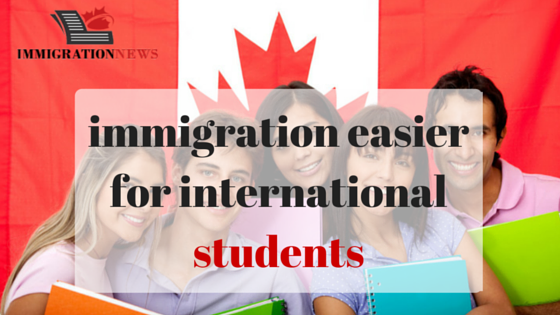 Federal Immigration Minister John McCallum says the government will be looking at ways to make the immigration process easier for international students.
"International students are the best source of immigrants, in the sense that they're educated, they're young, they speak English or French, they know something of the country," he said. "So we should be doing everything we can do to court them."
His comments could have significant implications for Nova Scotia, which welcomes thousands of international students each year and has been pushing hard to attract more immigrants.
International students in Nova Scotia
Saint Mary's University says more than a quarter of its students come from other countries. Dalhousie University says 14 per cent of its 18,000 students are international, while Cape Breton University is home to nearly 1,000 international students.
Jimena Prado is from Mexico and is studying immunology and microbiology at Dalhousie University.
As a member of the Dalhousie International Students' Association, Prado says many international students want to stay in Nova Scotia after graduation, herself included.
"A lot of us are young and want to start our lives here. So I think that would be a really good thing and it would open a lot of opportunities for all of us," she said.
McCallum told CBC Radio's Mainstreet the government is looking into different options to facilitate students becoming permanent residents.
Citizenship difficult through current system
He said the existing Express Entry System makes it difficult for students to gain permanent residence.
The Express Entry system is a computerized program that matches students with potential employers, but many students have been rejected by the program because it prioritizes immigrants who are skilled workers.
The system was introduced on Jan. 1, 2015, by the previous Conservative government; before that, it was a straightforward process for international students to apply for permanent residence.
McCallum said the federal government will work with provinces on ways to reform the points-based system.
Reforms yet to be determined
Those reforms may include increasing the number of points an applicant for permanent residence gets simply by virtue of being an international student.
It could also mean decreasing the number of points applicants gain for receiving a permanent job offer, since students often struggle to get job offers that have government approval.
Although the exact nature of the reforms have yet to be determined, McCallum said the federal government recognizes the importance of encouraging international students to stay in the country.
"The bottom line is that we definitely want to be more welcoming to international students and we will have more concrete proposals in the not too distant future," he said.
Source: CBC.ca