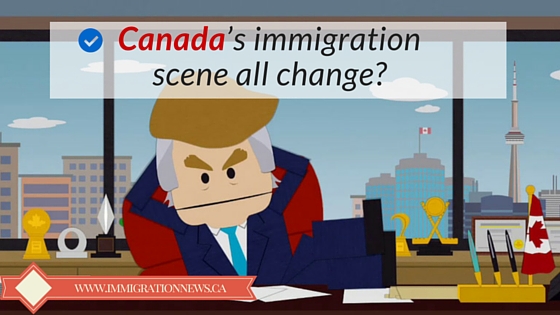 The Liberals swept to power in Canada's recent general election with a new plan for immigration and economic opportunity. Our update on the latest developments includes explanation and comment from immigration experts.
Recognizing that Canada's economic success was largely driven by its ability to attract talent from around the world, the incoming Liberal government had outlined its priorities for reforming the country's immigration system within days of October's general election.
In the view of the Canadian Employee Relocation Council (CERC), positive measures for business in the new government's immigration agenda included reversing measures in the immigration system that had created unnecessary inconveniences and costs for Canadians and Canadian businesses, a commitment to reviewing the Express Entry program (used to manage applications for permanent residence under the Federal Skilled Worker Program, the Federal Skilled Trades Program, and the Canadian Experience Class), and granting immediate permanent residence to new spouses entering Canada, rather than imposing a two-year conditional status.
Said the CERC, "The paper [published by the new government]takes a swipe at the Temporary Foreign Worker Program and the levels of temporary workers in Canada. This will continue to be a hot issue in the coming months.
"Business will need to continue to press the case for more open access to highly skilled workers through the international mobility program, intra-company transfers, and trade agreements."
The CERC had been concerned about the impact that the previous administration's changes to the Temporary Foreign Worker Program were having on employers, and the challenges companies were encountering with the Express Entry system for applications for permanent residence.
The majority (59 per cent) of respondents to a survey of CERC members conducted between 1 October and 15 November 2015 and published in December said that many of these changes were having a negative impact on business planning and organisations' ability to recruit skilled workers internationally.
Respondents, who accessed the immigration system frequently and collectively employed more than 400,000 people, came from a range of sectors, including education, professional, scientific and technical services, financial services, and natural resources.
Two-thirds of companies surveyed pointed to "ambiguous and on going changes to immigration rules" as the greatest challenge when transferring employees to Canada. Of those, 16 per cent reported transferring work outside the country because of challenges in the system.
The survey also identified shortcomings in the quality of services provided by the various government departments that administered the programmes. Of the companies surveyed, 77 per cent said they experienced inconsistencies in decisions made by immigration officials.
A further 75 per cent said they did not have access to timely and accurate information about the programmes managed by Employment, Workforce Development and Labour, which oversees several areas of the Temporary Foreign Worker Program.
Stephen Cryne, the CERC's president and EO, said, "The new Liberal government is on the record in recognizing that, with Canada's ageing population, having a robust, effective, and efficient immigration system is critical to our long-term economic growth.
"We are optimistic that some of the findings of our survey will prompt the new government to address these issues quickly."
[pro_ad_display_adzone id="37″]
International Mobility Program: new Employer Portal
Since 21 November, companies submitting offers of employment for Canada's International Mobility Program (IMP) have had to use the new Employer Portal.
The IMP, explains a spokesman for global law firm Norton Rose Fulbright and Holthe Tilleman Immigration Law, allows employers to hire or bring in foreign workers without needing a Labour Market Impact Assessment (LMIA).
Exemptions from the LMIA process are available for people authorised to work in Canada temporarily under free-trade agreements such as NAFTA, intra-company transferees, International Experience Canada participants, spouses of highly skilled foreign workers, and some other categories.
Submissions via the portal have been compulsory since 26 October for all employers under the IMP, apart from those exempt from the employer compliance fee.
An employer wishing to submit an offer of employment must now register with the Employer Portal. A representative may be added by the company as a secondary user, and can then submit offers of employment on the employer's behalf.
The employer compliance fee (currently CAD230) must also be paid via the portal. On successful submission of the offer of employment, an ID number is assigned to the information submitted. The employer should provide this ID number to the foreign national for inclusion on his or her work-permit application form.
Update on Canadian Express Entry
Introduced in 2015, the Canadian Express Entry programme continues to expand. This expansion is bringing positive changes for foreign nationals (with or without a valid job offer from a Canadian employer) seeking to obtain permanent residence in Canada, says corporate immigration specialist Pro-Link GLOBAL.
Applicants are selected during 'draws' from the Express Entry 'pool', based on the number of points earned through the Comprehensive Ranking System (CRS), which measures candidates based on factors such as education level, language ability, work experience, and age.
Selected candidates receive an Invitation to Apply (ITA) for Canadian Permanent Residence under one of the many immigration streams.
The most recent draw from the Express Entry pool took place on 13 January and saw 1,518 ITAs issued, with an eight-point decrease in the minimum CRS points required to qualify. Those who received an ITA have 60 days in which to complete an electronic application for permanent residence.
The government expects the application process to be completed within six months, though many applicants have received decisions in less than half that time.
Pro-Link GLOBAL anticipates that the number of draws from the Express Entry Pool will continue to increase under the new government, while the minimum CRS score may continue to decrease.
For more on immigration to Canada, tune in to Pro-Link GLOBAL's webinar Canadian Immigration: Regulatory Requirements in a New World.
New Electronic Travel Authorisation
This spring, the Canadian government will start to enforce the new Electronic Travel Authorisation (eTA) programme, Peregrine Immigration Management is reminding employers.
The eTA is an online registration system. It took effect in August 2015, but will not be mandatory until 15 March, and is valid for five years, or until the expiry date of a passport, whichever comes first. The eTA requirement applies to travellers who do not need a visa to enter Canada and are planning to arrive by air. Visa-exempt countries include the UK, Japan, Australia, Korea, and members of the European Union.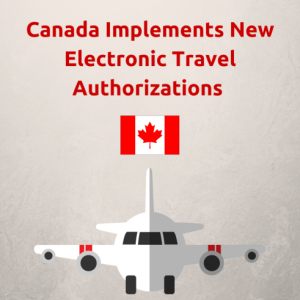 The eTA requirement does not apply to citizens of the US or those accessing the country via a land or sea port of entry. Nationals of certain visa-required countries (Brazil, Bulgaria, Mexico and Romania) who hold a current US non- immigrant visa or have held a Canadian visa in the past ten years, will be allowed to enter Canada with an eTA instead of a visa. This special visa exemption may not be in place by 15 March, however.
The eTA process involves entering a traveller's personal details and passport information into an online portal and paying a fee of CAD7. All travellers, including children, must obtain an eTA. In most cases, Citizenship and Immigration Canada (CIC), the government body that deals with immigration matters, will approve the eTA within minutes of an application being made.
In situations where an immediate decision is not given, CIC will follow up by requesting more information from the candidate.
Source: relocatemagazine