Currently, immigrants represent one in five people in Canada. By immigrants, we mean people born outside of the Canadian territory. Since 1990, over six million new immigrants have arrived in Canada. "Thanks in great part to the newcomers we have welcomed throughout our history, Canada has developed into the strong and vibrant country we all enjoy", stated Canada's Minister of Immigration, Refugees and Citizenship, the Honourable Ahmed Hussen.
Immigrants and their descendants have made immeasurable contributions to Canada, and our future success depends on continuing to ensure they are welcomed and well-integrated, also affirmed the minister in the 2018 Annual Report to Parliament on Immigration. Recently published, this report brings key analysis and data on immigrants contributions to the Canadian economy and labour market.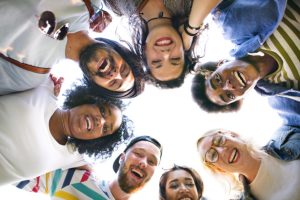 According to the report aforementioned, with an ageing population and low fertility rates, immigration plays an important role in ensuring that Canada's population and labour force continue to grow. Given that immigrant newcomers are, on average, younger than the Canadian-born population, immigration can help mitigate some of the challenges of an ageing demographic.
In addition, immigration to Canada is a tool that can help to lessen the decline of Canada's worker-to-retiree ratio. In 2012, the worker-to-retiree ratio was 4.2 to 1; projections put that ratio at 2 to 1 by 2036. Plus, it's expected that immigrants help Canada to fill its labour gabs.
Also read: Three years of the Express Entry program: Canada needs foreign skilled workers
Also read: Immigration opportunities in Canada for Early Childhood Educators
Check if you are eligible to work in Canada
What are Canada's labour gaps?
While many jobs can be filled by Canadians, gaps remain to exist in the labour market. Therefore, Canada expects immigrants to help to satisfy labour market needs which, in turn, stimulates economic growth. Immigration also helps to meet specific regional labour market needs, especially through Provincial Nominee programs, reveals the report. Recent projections indicate that existing labour shortages, particularly in health, sciences, skilled trades, transport, and equipment, are expected to persist into the future.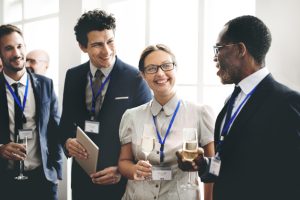 Furthermore, when immigrants come to Canada, they become part of the consumer market and pay taxes. This means that they contribute to the economy and increase the productive capacity of the region. Data of the 2018 Annual Report to Parliament on Immigration report show that Canada's economy has benefitted from solid gains in the size of the labour pool, due largely to immigration.
The report also reveals that, over the past twenty years, real gross domestic product (GDP) per capita, productivity, and the labour force have all increased by around 1.25% per year. In 2017, the top five occupations of principal applicants were: information systems analysts and consultants; software engineers; computer programmers and interactive media developers; financial auditors and accountants; and administrative assistants.
Also read: Immigration to Quebec: everything you need to know before applying
Check if you are eligible to work in Canada
Do immigrants contribute to Canada's economy?
In Canada, immigrants of all categories tend to have positive outcomes across a range of economic indicators, including refugees. In 2017, for example, the labour force participation rates of immigrants aged 25 to 54 who landed more than 10 years earlier are comparable to those of the Canadian-born (86.9% vs. 88.4%), shows report data. The economic performance of all immigrants increases with time spent in Canada. Average employment earnings reach the Canadian average at about 12 years after landing. Principal applicants in the Canada Experience Class and Provincial Nominee program exceed the Canadian average within the first year of landing.
The Conference of Board Canada, a Canadian not-for-profit applied research organization, also published many reports on the immigration impacts on Canada's economy. The main conclusions of their most recent studies on immigration were summed up in the following infographic.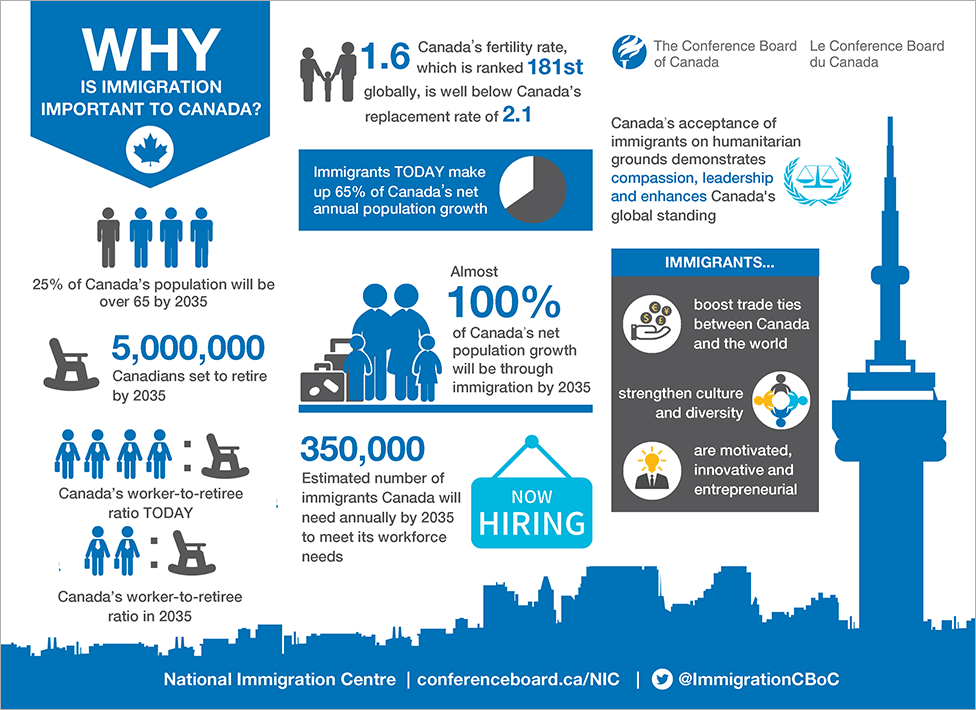 Also read: Canada is top 3 in the highest percentage of international students
Check if you are eligible to work in Canada
What is the impact of temporary residents on the labour market?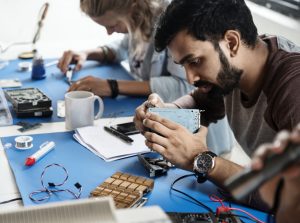 Temporary residents also contribute to the Canadian labour market and economy. Just in 2016, visitors and international students contributed $31.8 billion to the Canadian economy. While temporary worker programs are essential in meeting broader short-term labour market needs. The 2018 Annual Report to Parliament on Immigration brought data on initiatives to recruit foreign skilled immigrants. Such as the Global Skills Strategy, that make easier for Canadian businesses to quickly attract the temporary foreign talent. Once inland, foreign skilled workers can drive innovation, help Canadian firms to grow and make the economy stronger. Temporary work programs are also very important to fulfill seasonal demands, especially in certain agricultural sectors.
In addition, depending on their human capital such as education, official language proficiency, and work experience, temporary workers can be invited to apply for permanent residency through federal or provincial programs.
Also read: All you need to know about the in-demand jobs in Saskatchewan
Check if you are eligible to work in Canada
Are you interested in Canada immigration?
There are different ways you can work and immigrate to Canada. And Mercan Group has the experience and expertise to guide you through this process. From picking an immigration category to giving you all the preparation need and filing your application forms, Mercan will be there for you. Also, preparing you for an interview with the Immigration Office and following up with the Visa.
Mercan can represent you in a Temporary Foreign Worker Program or an International Mobility Program (IMP). Mercan has also the expertise to represent you in a Provincial Nominee Program, a Quebec Skilled Worker Program or any other working program you pick. So, you can always count on Mercan Group of Companies to help you.

How can Mercan help you

(2 EASY STEPS)

?
1-Fill Mercan Group Free Assessment.
2-Check your email regularly. Wait for Mercan's professional immigration team to give a full assessment feedback. And inform you about the next steps.