Canada wants more francophone immigrants
A team effort! That is how Canada plans to bring more francophone immigrants to the country. Federal, provincial and territorial governments established and published this month a new action plan for attracting, selecting, integrating, and retaining French-speaking immigrants outside the province of Quebec. That initiative is called "This Federal/Provincial/Territorial (FPT) Action Plan for Increasing Francophone Immigration (Action Plan)".
Despite the increase in the annual number of francophone immigrants outside Quebec from 850 in 2003 to 2,400 in 2017, Canada wants more. Therefore, the main federal target for this new Action Plan is to have among all immigrants 4.4% of francophones settling in provinces other than Quebec by 2023. By provinces and territories, the goals are 5% in Ontario, 33% in New Brunswick, 5% increase in the Northwest Territories, 7% in Manitoba and 5% increase in Newfoundland and Labrador.
Read more: Three years of the Express Entry program: Canada needs foreign skilled workers
Also read: Canada immigration plan until 2020: new 340,000 immigrants a year
Check if you are eligible to work in Canada
Canada official languages data
Canada's population was 34,767,255 accordingly to the 2016 Statistics Canada census. The latest census also brings important data about language distribution in the country: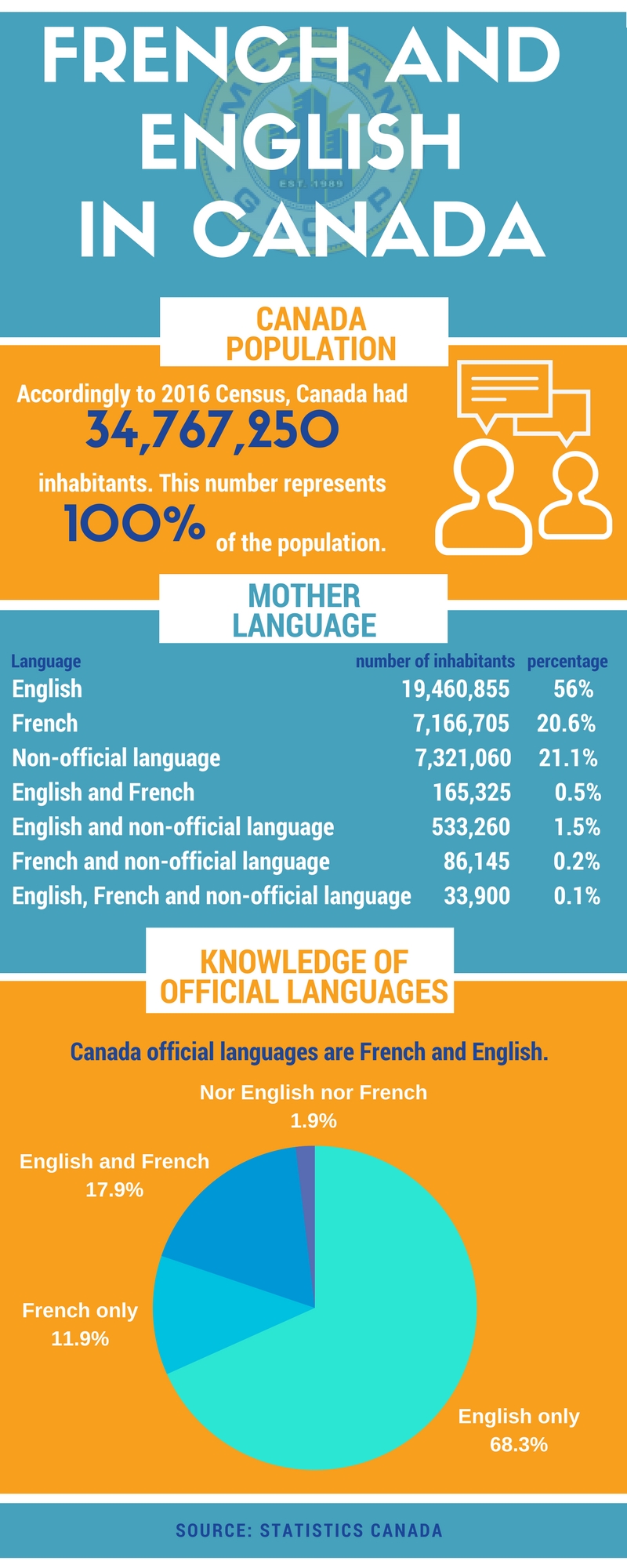 Also, in the official page of the plan says that to maintain the 2016 demographic share of the French-speaking population in Canada outside of Quebec, 275,000 new francophone immigrants would have to come by 2036. So, despite previous governmental efforts to maintain the proportion of the Canadian population (outside of Quebec) using French as their first official language, a lot need to be done. Hence, this new FPT Action Plan is a great start.
Since, according to the Action Plan page, bringing more francophone immigrants enrich Canada. Culturally, socially, demographically, linguistically and economically it is a win for the country and its immigration policies. French-speaking immigrants will help to fill labour gaps and sustain Canada as a bilingual country.
Read more: New procedures on the Francophone Mobility Work Permit
Check if you are eligible to work in Canada
How will Canada boost francophone immigration?
To accomplish the Action Plan, federal, provincial and territorial governments need to work in collaboration with stakeholders. The main objective is to "to improve the promotion, selection, settlement, integration, and retention of French-speaking immigrants to Francophone Minority Communities (FMCs), using tools and approaches that are suitable to each community".
Therefore, the Action Plan centres on three strategies for collaboration. First, championing francophone immigration. Then, collaborating on employment, accessible services, and inclusive communities. And finally, reporting on progress. Find below a detailed chart of the official page of the plan about the strategies for collaboration.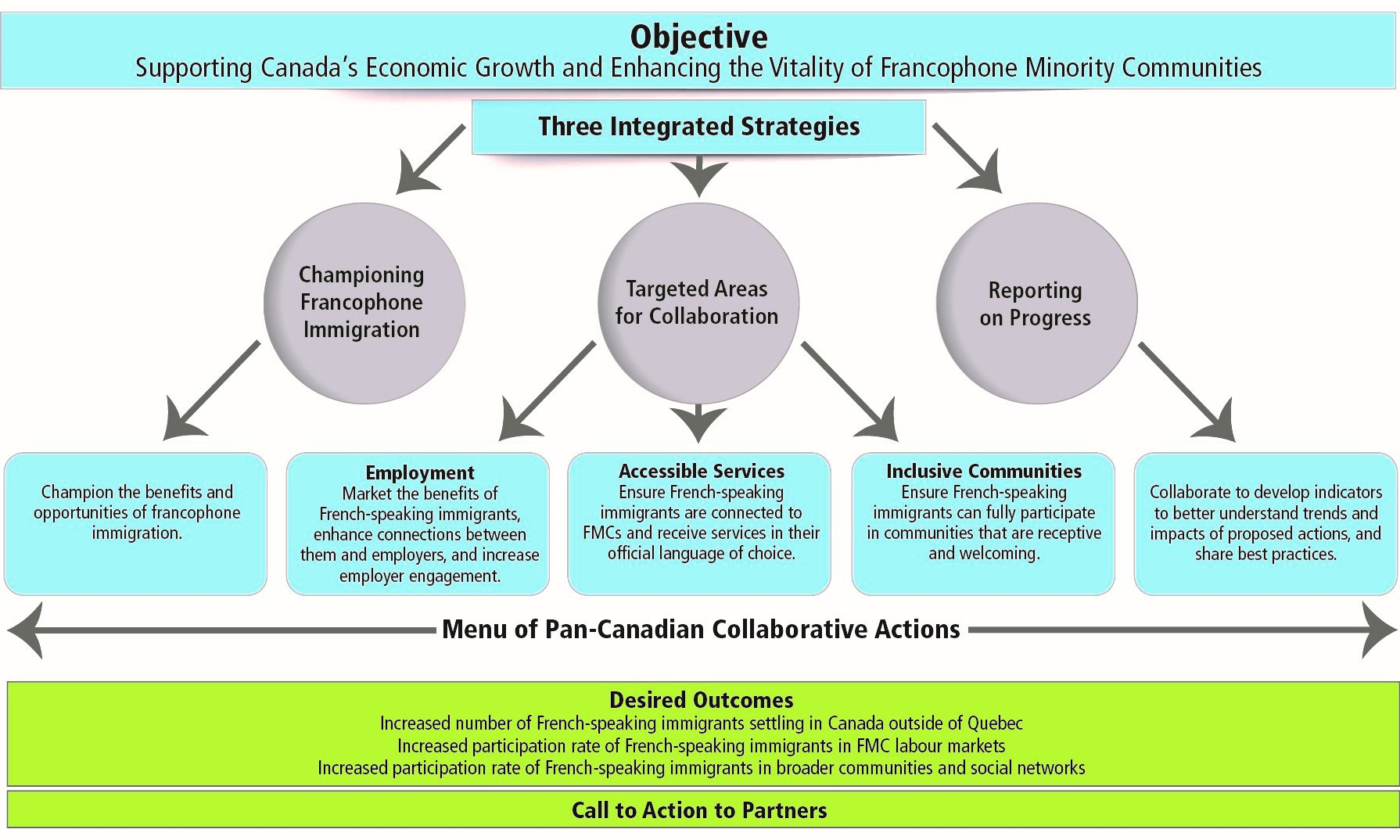 Source: Annex A – Action Plan for Increasing Francophone Immigration
Read more: What is the best provincial nominee program for immigrating in 2018?
Are you interested in immigrating to Canada?
There are different ways you can work and immigrate to Canada. And Mercan Group has the experience and expertise to guide you through this process. Whether you are an Anglophone or a Francophone, Mercan will help you on picking an immigration category and giving you all the preparation need. Also preparing you for an interview with the Immigration Office and following up with the Visa.
Mercan can represent you in a Temporary Foreign Worker Program or an International Mobility Program (IMP). Mercan has also the expertise to represent you in a Provincial Nominee Program, a Quebec Skilled Worker Program or any other working program you pick. So, you can always count on Mercan Group of Companies to help you.

How can Mercan help you

(2 EASY STEPS)

?
1-Fill Mercan Group Free Assessment.
2-Check your email regularly. Wait for Mercan's professional immigration team to give a full assessment feedback. And inform you about the next steps.