All you need to know about the population in Canada before you immigrate
If you are planning to immigrate to Canada in 2018, we strongly recommend you to hire a team of experts to assist you in the visa application process. Aside from the application process, there are other types of preparation you should take before moving to Canada, such as learning more about what Canada has to offer you and how is life in Canada for immigrants. Therefore, Immigration News blog brings you this article with all you need to know about Canada's population before you immigrate. Ready to start?
Read more: How will the government better integrate immigrants into Quebec job market?
Check if you are eligible to work in Canada
Population in Canada by province
Canada has a small population in proportion to its size (8,965,588.85 km² of land area). In 2011, it had 33,476,688 inhabitants. According to the latest reports of Statistics Canada, after a 5% growth, Canada has nowadays 35,151,728 inhabitants (2016). The five biggest provinces in terms of population are, in order, Ontario, Quebec, British Columbia, Alberta, and Manitoba. Not surprisingly, those provinces received the highest number of immigrants from 2011 to 2016.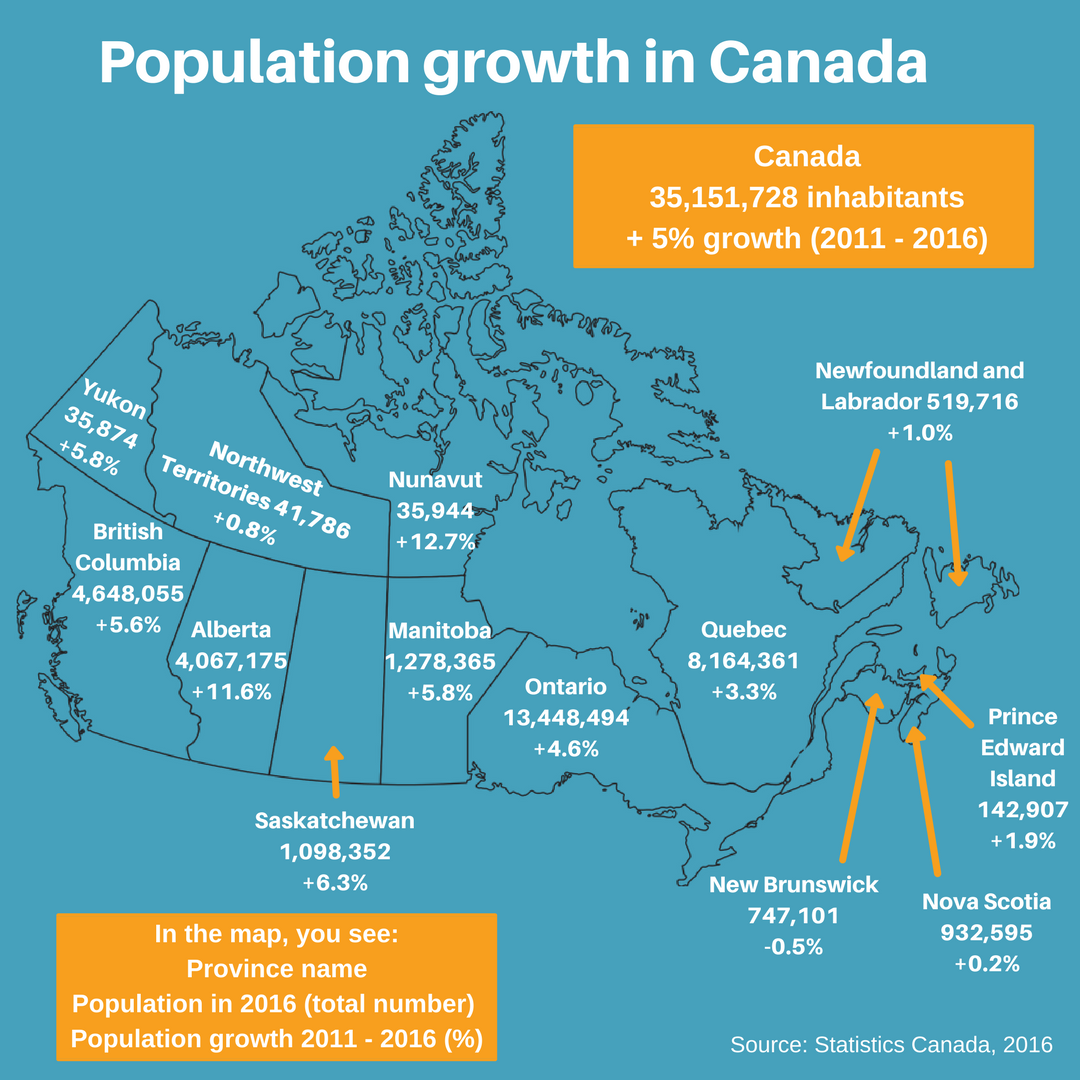 Check if you are eligible to work in Canada
Read more: Global Skills Strategy helps to expand tech sector immigration in Canada
Population in Canada by age groups
Another key factor to analyze Canada's population is ageing. Canada must increase the number of immigrants to prevent a fiscal and economic collapse posed by its ageing population and low birth rate. Hence, the government released an Immigration Plans for the next three years that forecast to admit 340,000 new immigrants a year. The federal authorities want to have by 2020 an increase of 13 percent in overall immigration numbers. Most newcomers should be in productive age since Canada plans to gradually fill labour gaps.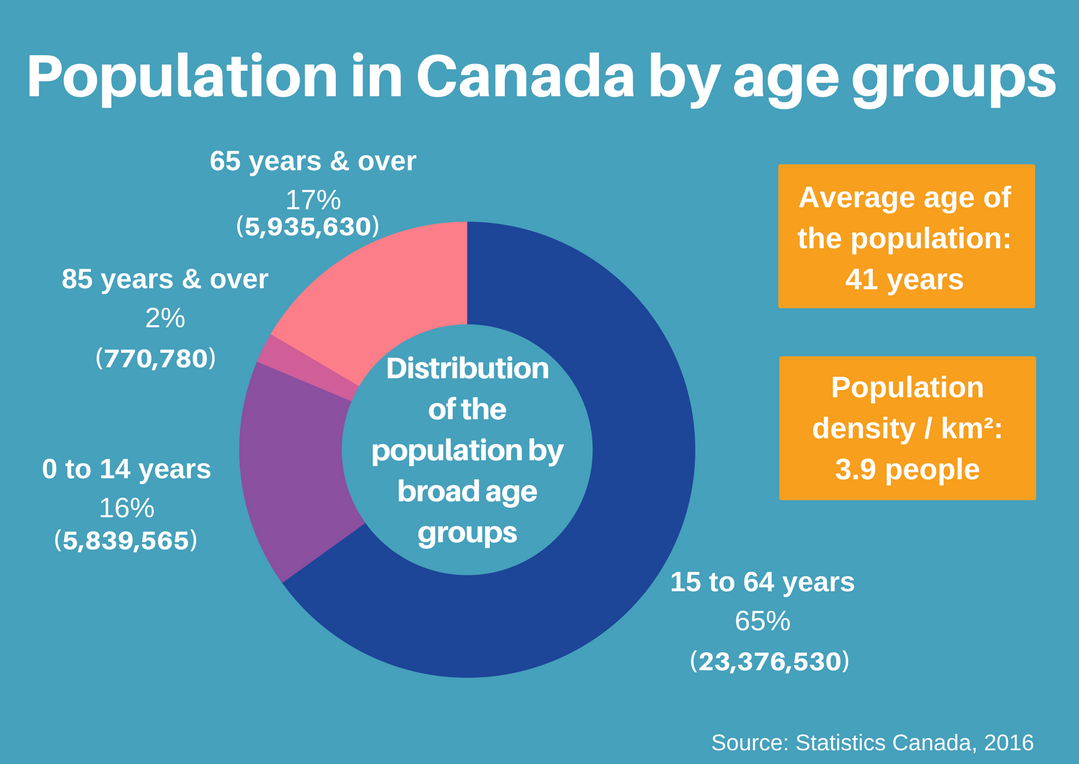 Check if you are eligible to work in Canada
Read more: Employment in Canada is in expansion, reveals the latest labour force survey
Immigration and Canada's population growth rates
Immigrants have been representing an important aspect of the populational growth in Canada in the past years. According to Statistics Canada data, 23.8% of the workers in Canada in 2016 were immigrants. It means almost one-quarter of the country's labour force.
It's considered immigrants, in the following chart, people who are, or who have ever been, landed immigrants or permanent residents. In other words, people who have been granted the right to live in Canada permanently by immigration authorities. Canadian citizens by naturalization are also included in this category. By 'non-permanent residents' we mean people from another country who have a work or study permit or who are refugee claimants, and their family members sharing the same permit and living in Canada with them.
Canada expects to grow even more the immigration numbers to keep increasing it's population until 2056, according to the following Statistics Canadaprojections on the chart.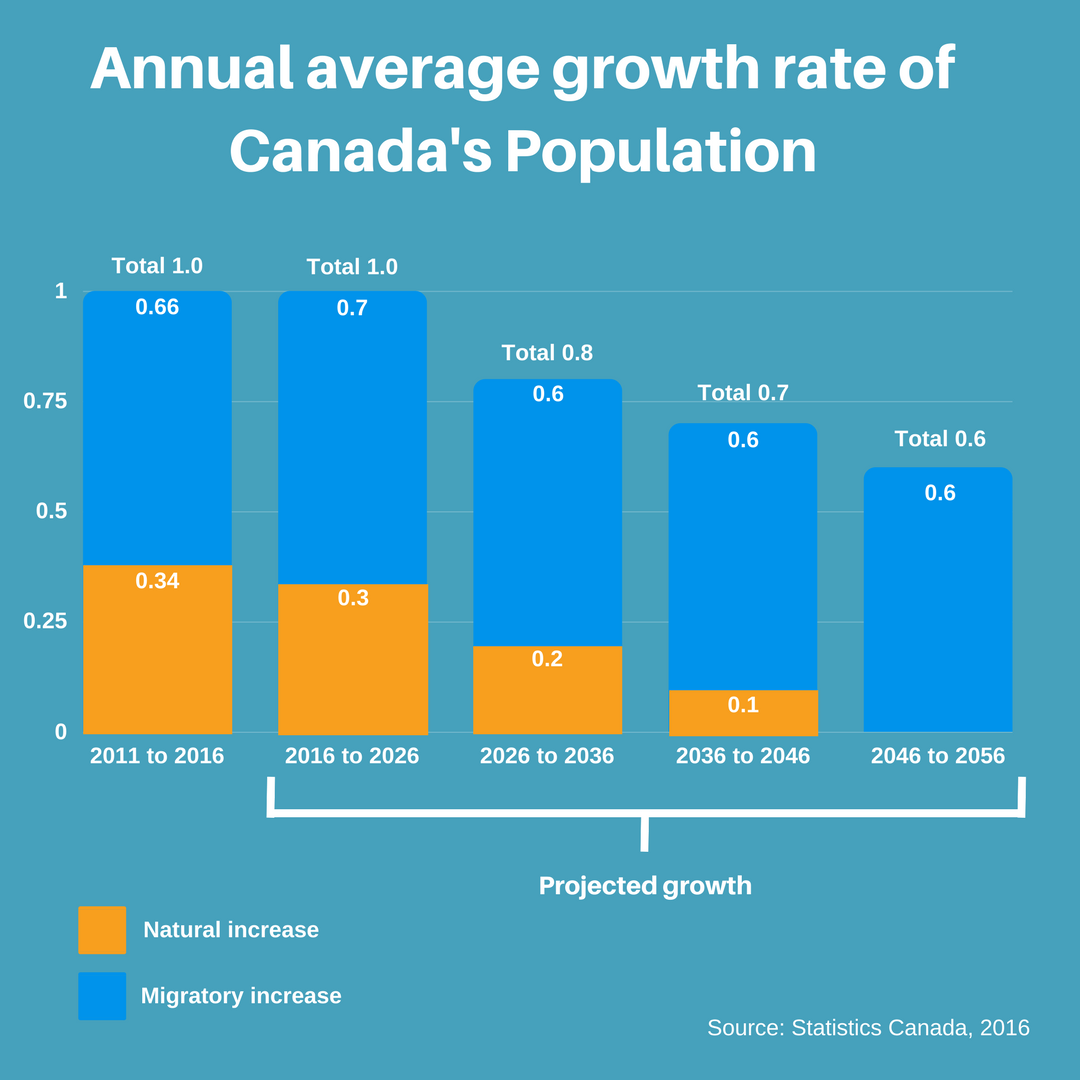 Also read: 12 must-read articles to celebrate Immigration News blog anniversary
How to immigrate to Canada?
There are different ways you can immigrate to Canada and Mercan Group has the experience and the expertise to guide you through all of them. From picking an immigration category to giving you all the preparation need and filing your application forms, Mercan will be there for you. Also, preparing you for an interview with the Immigration Office and following up with the Visa. Mercan can represent you in an International Mobility Program (IMP), a Provincial Nominee Program or any other working program you pick. So, you can always count on Mercan Group of Companies to help you.

How can Mercan help you

(2 EASY STEPS)

?
1-Fill Mercan Group Free Assessment.
2-Check your email regularly. Wait for Mercan's professional immigration team to give a full assessment feedback. And inform you about the next steps.