Global Skills Strategy helps to expand tech sector immigration in Canada
Launched in June this year, the Global Skills Strategy program is bringing now its firsts results and they are encouraging! This pilot program is meant to make processing easier and faster for highly skilled foreign tech workers to come to Canada. And so far, just in its first two and a half months, it already brought more than 1,600 workers to the country.
As most of the immigration programs in Canada, the Global Skills Strategy will help companies to find the talented workers they need to expand businesses and, consequently, boost the economy. And through Global Skills Strategy program, instead of waiting months, eligible candidates are receiving their work permits within two weeks. In addition, it facilitates the entrance of family members in Canada too. See below more data about this new pilot program: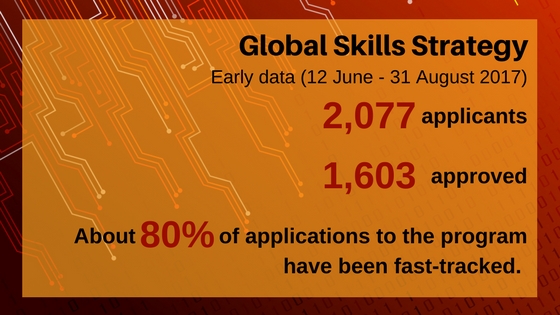 Check if you are eligible to work in Canada
Also read: Indians and Chinese in the Canadian Immigration map
Who is eligible for two-week processing?
Get to know the eligibility requirements for the two-week processing of the Global Skills Strategy program.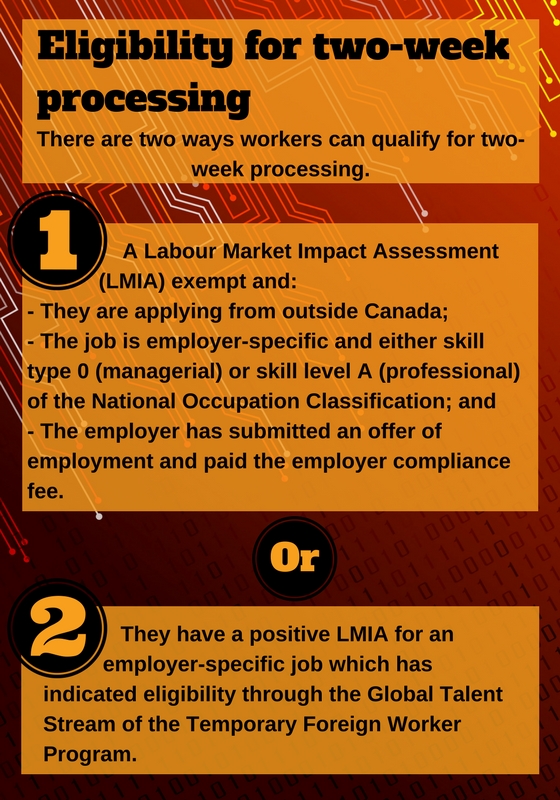 Why is tech sector immigration in expansion in Canada?
The explanation might have something to do with the recent restrictions on the H-1B American Visa for skilled workers outside America. That policy made Canada even more attractive to immigrants, especially from the Tech sector. Canada's Tech Orbit can be the biggest beneficiate with this restrictive policy of America.
In addition, is always nice to remember that lots of American technology giant companies have offices in Canada. Also, Canadian companies are allowed to hire skilled workers through the International Mobility Program (IMP), without a Labour Market Impact Assessment (LMIA), to fill labor needs. Which can be another reason to explain the overall increase in tech sector immigration through the past decade in Canada. See the most recent data about tech sector immigration in Canada: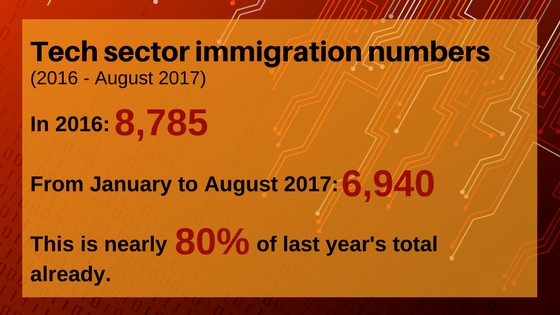 Check if you are eligible to work in Canada
What are the trends for the Global Skills Strategy program?
Although it might be soon to predict the impact of the new Global Skills Strategy program in the tech sector immigration, the trend is that more and more tech workers keep coming to fill labor gaps in Canada. And while the numbers look promising, Canada's government also realized an encouraging plan for immigration until the year 2020. And some provinces, like Manitoba and Alberta, already have good plans for immigration in 2018 as well.
Also read: Companies in Ontario receive incentives to hire and retain young workers 
Do you want to immigrate to Canada?
Mercan Group has the experience and expertise to guide you through your application process. From picking an immigration category to giving you all the preparation need and filing your application forms, Mercan will be there for you. Also, preparing you for an interview with the Immigration Office and following up with the Visa. Mercan can represent you in an International Mobility Program (IMP), a Provincial Nominee Program or any other working program you pick. So, in all of these cases, you can count on Mercan Group of Companies to help you. Contact them.

How can we help you

(2 EASY STEPS)

?
1-Fill Mercan Group Free Assessment.
2-Check your email regularly. Wait for our professional immigration team to give a full assessment feedback. And inform you about the next steps.