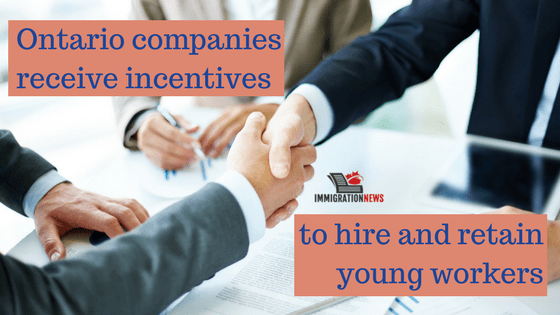 Companies in Ontario receive incentives to hire and retain young workers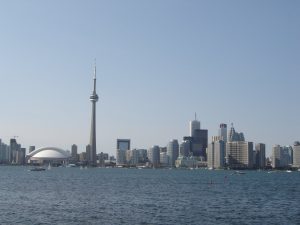 The Ontario's Finance Minister, Charles Sousa, announced this week some good news for small businesses in the province. Starting January 1st next year, the small business tax rate will reduce from 4.5 percent to 3.5 percent. That reduction will come into effect at the same time as the provincial minimum wage increases. Also, the local government will give incentives to small businesses to hire and retain young workers.
Those measures should put less pressure on Ontario's small businesses. And, consequently, boost the local economy, giving more opportunity to young workers that currently live or want to immigrate to Ontario.
Check if you are eligible to work in Canada
Also read: The 25 best places to work in Canada
How will those measures benefit Ontario's economy?
Companies with fewer than 100 employees are considered small businesses. Therefore, they might be eligible for this governmental incentive. The inventive is: every time the company hires a young professional, between 15 to 29 years old, it gets $1,000. Also, if the company retains that employer for six months, it earns more $1,000.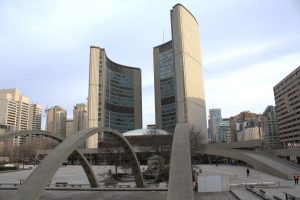 These incentives and the reduction in tax cuts for small business will cost about $500 million to the province over the following three years. But it seems to be a good strategy to foster the economy, bring more investors to the region, protect the local small businesses and make Ontario more competitive among other Canadian provinces.
The tax cut, for example, will put Ontario as the third-highest small business tax rate in the country. While the corporate tax rate is the second-lowest in Canada. And despite this small business tax cut, the corporative tax revenue is expected to be $1.6 billion higher than earlier projected. So, corporative tax revenue is now forecasted to be $15.4 billion in the 2017-2018 cycle. That rise in the projections demonstrates an economical strengthening for companies in Ontario this year.
Another measure that will affect Ontario's economy is the increase in the provincial minimum wage. Ontario expects to rise from the current $11.60 per hour to $14 per hour on the January 1st, 2018 and then to $15 per hour in January 2019. That is also a measure meant to relieve the pressure on small businesses and bring more work opportunities to the province.
Check if you are eligible to work in Canada
[button-red url="https://forms.mercan.com/expressentry/?lead_source=immigration-news-blog" target="_blank" position="center"]Free Assessment[/button-red]
Also read: How can you immigrate to Canada as a self-employed worker
How can I immigrate to Ontario?
Looking for an opportunity to immigrate to Ontario? There are some options to for immigration programs specifically to the province of Ontario, like the Ontario Immigrant Nominee Program (OINP) and the Ontario Express Entry. The OINP includes categories like Foreign Workers with a Job Offer, In-demand Skilled Worker, and Master or PhD graduates. While the Ontario Express Entry has, for example, Human Capital Priorities and French-Speaking Skilled Worker streams. Check the infographic below to know more about these streams: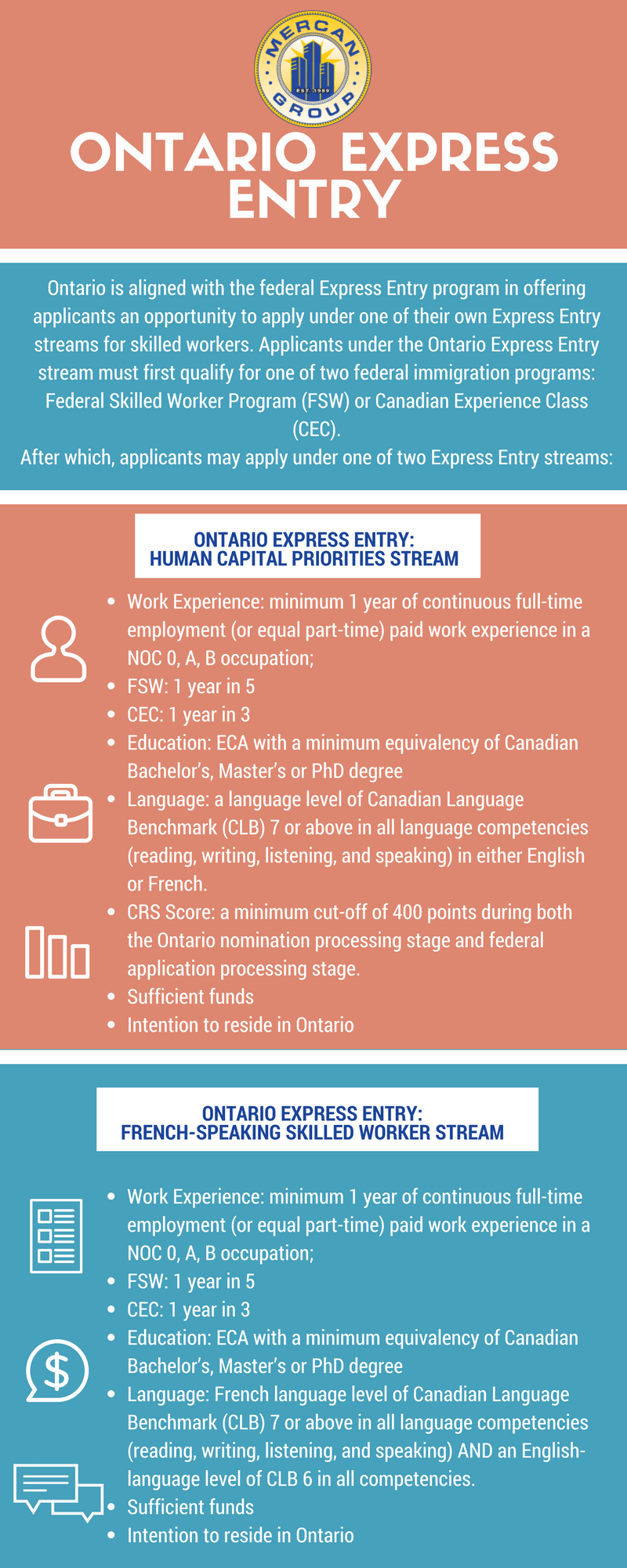 Also read: Great opportunities to immigrate to Alberta coming in January
Who can help me to immigrate to Ontario?
Mercan Group! Mercan has the experience and expertise to guide you through your application process. From picking an immigration category to giving you all the preparation need and filing your application forms. Mercan will be there for you. Also, preparing you for an interview with the Immigration Office. And even following up with the Visa. We would be delighted to be your representative in an International Mobility Program (IMP), a Provincial Nominee Program or any other working program you pick. Therefore, in all of these cases, you can count on Mercan Group of Companies to help you.

How can we help you

(2 EASY STEPS)

?
1-Fill Mercan Group Free Assessment.
2-Check your email regularly. Wait for our professional immigration team to give a full assessment feedback. And on how to proceed and what are the next steps.