Canada immigration plan until 2020: new 340,000 immigrants a year
As we published before, Canada's government was re-evaluating how many immigrants it should welcome in the next years. Many stakeholders, including the Conference Board of Canada, gave some insights about the topic, aiming for higher numbers like 450,000 per year until 2020. But the government decided to go for its own strategy. And this week Canada's government revealed his Immigration Plans for next three years: admit 340,000 new immigrants a year.
New immigrants in Canada will come gradually, says the government. The federal authorities want to have, by 2020, an increase of 13 percent in overall immigration numbers. Besides filling labor needs, Canada must increase the number of immigrants to prevent a fiscal and economic collapse posed by its aging population and low birth rate.
Therefore, Canada wants to invest more in economic programs designed to bring skilled workers and boost the economy. Especially, the Express Entry, program that brought impressive numbers of workers to Canada and that will celebrate three years of existence in January 2018. But the government also wants to keep putting effort on the Provincial Nominee Programs.
Also read: How can you immigrate to Canada as a self-employed worker
Check if you are eligible to work in Canada
Minister's opinion on Canada immigration plan
For the Minister of Immigration, Ahmed Hussen, Canada should increase gradually its immigrations number in other to adjust the entire system and avoid crises. Also, a gradual increase would give Canada the necessary time to properly integrate the new immigrants into the economy, since "bringing a newcomer to Canada is just half of the job", said Hussen.

The minister was also very clear about the importance of truly know Canada's economic absorptive capacity before bringing so many newcomers. So, he stood for the necessity of working with partners to make this plan for the next three years work.
Planning for three years, instead of going for annual plans, is a mark. The last time it happened was in the 1980s due to an economic recession. And looking in a three years perspective Canada will receive nearly one million new permanent residents: 310,000 in 2018, more 330,000 in 2019 and more 340,000 in 2020. According to the minister, this is "the most ambitious immigration levels in recent Canadian history."
New immigrants in Canada: program by program
As said before, the federal government wants to keep putting a big effort on economic programs that will bring skilled workers to the country. From the total number of new permanent residents, the government desires to give 565,000 spots for economic programs like the federal Express Entry and Provincial Nominee Programs.
Also read: Becoming a citizen will be easier after the latest Canadian Citizenship change
Economic programs
For 2017, Canada targets to bring 71,700 newcomers by the Express Entry program, without including the Atlantic Immigration Pilot Program newcomers. For 2018, is expected a 4 percent increase, bringing 74,900 newcomers through Express Entry. By 2019, the target will be 81,400 and in the following year, it will turn into 85,800. These numbers represent, respectively, 9 and 5 percents of grown.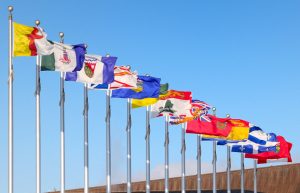 About the Provincial Nominee Programs, the targets are: 51,000 for 2017, 55,000 for 2018 (8 percent of increase), 61,000 for 2019 (11 percent of increase) and 67,800 for 2020 (also 11 percent of increase). The province of Alberta, for example, has already announced some news about Alberta PNP program for early 2018. And you can check below some of the opportunities related to Provincial Nominee Programs and the Atlantic Immigration Pilot Program in 2017:
Ontario PNP news: Canada Immigration for PhD students after graduation
New work opportunities on the Nova Scotia Express Entry program
BC PNP Tech Pilot has in-demand job opportunities
Ontario offers opportunities for in-demand foreign workers 
New occupations on the Saskatchewan Express Entry reopening
Atlantic Canada provinces need more immigrants
Also, the province of Quebec has recently revealed its target numbers for immigration for 2018. And for the next three years, Quebec expects to receive 94,000 skilled workers and business immigrants. While the federal government aims for more than 2,000 business immigrants and their family members to come by the year of 2020.
Check if you are eligible to work in Canada
Family reunification and refugee programs
The government also announced its perspectives for Family Reunification. Canada expects to bring around 265,000 family members together with Canadian citizens and permanent residents. That includes parents and grandparents, spouses or common-law partners, dependent children and other relatives. The targets for Family Reunification programs are: 84,000 for 2017, 86,000 for 2018 (2.4 percent of increase), 88,500 for 2019 (3 percent of increase) and 91,000 for 2020 (3 percent of increase).
Finally, Canada also set a goal for refugees. The government aims to concede Permanent Residency to 43,000 refugees in 2018, 45,650 refugees in 2019 and more 48,700 in 2020. About this program, is nice to remember that Canada already welcomed almost 60,000 refugees and protected people in 2016.
Also read: Indians and Chinese in the Canadian Immigration map
Want to immigrate to Canada?
Mercan Group has the experience and expertise to guide you through your application process. From picking an immigration category to giving you all the preparation need and filing your application forms. Mercan will be there for you. Also, preparing you for an interview with the Immigration Office. And even following up with the Visa. We would be delighted to be your representative in an International Mobility Program (IMP), a Provincial Nominee Program or any other working program you pick. Therefore, in all of these cases, you can count on Mercan Group of Companies to help you. Contact us.

How can we help you

(2 EASY STEPS)

?
1-Fill Mercan Group Free Assessment.
2-Check your email regularly. Wait for our professional immigration team to give a full assessment feedback. And on how to proceed and what are the next steps.