Great opportunities to immigrate to Alberta coming in January
As you know, Calgary and Edmonton are forecasted to be the metropolitan areas with the fastest growth in Canada's economy this year. That, by itself, is a good reason to consider the idea of immigrating to the province where those metropolises are located. But now the Alberta immigration authorities gave even stronger reasons to make this idea turn into a SERIOUS plan!
Two new ways to Immigrate do Alberta
On January 2nd, 2018 Alberta immigration authorities will open a new Alberta Immigrant Nominee Program (AINP) stream. Known as the "opportunity stream", this immigration program is a great chance for foreigners working in the province to get the Canadian Permanent Residency.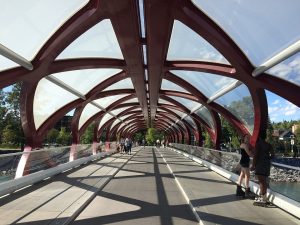 This stream, like all other AINP streams before, has no relation to the federal Express Entry Program. It is a Provincial Nominee Program (PNP) in which successful applicants can use the provincial nomination to apply for Permanent Residency in Canada.
This new AINP "opportunity stream" will replace the Employer-Driven stream and the Strategic Recruitment stream. These two current streams will keep accepting applications until the new AINP "opportunity stream" comes into effect in January 2018. After that, some application might continue to be processed, but no new applications will be accepted.
But Alberta immigration authorities also announced another new stream coming in January 2018 related to the Express Entry program. That would be the first time that Alberta would join many other provinces and launch a Provincial Nominee Program (PNP) aligned with the federal Express Entry pool.
The Alberta immigration authorities haven't announced yet the prerequisites to this new pool related to the Express Entry program. But you can already check the "opportunity stream" requirements below.
Check if you are eligible to work in Canada
Read more: How can you immigrate to Canada as a self-employed worker
AINP "opportunity stream" job requirements
First, candidates for this stream must have a job offer issued by an Alberta employer. But this job offer doesn't have to be in a skilled occupation necessarily. A great variety of skill levels 0, A, B, C and D occupations under the National Occupational Classification (NOC) are eligible.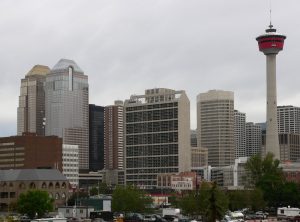 Secondly, the candidates must live and work in Alberta's territory and have a valid Temporary Resident Permit at the time of the application. And candidates with a job not supported by the Labour Market Impact Assessment (LMIA) must have an exemption for workers covered under international trade agreements or workers transferred within a company. Or they can be taking part in an International Experience Canada (IEC).
Another requirement is to have completed high school or a higher level of education. And candidates that studied outside Canada must take an Educational Credential Assessment (ECA) from a recognized authority. But in certain cases, the ECA might not be required, like candidates with work experience that qualifies them in a compulsory or optional trade, and who also have a recognized valid Alberta Qualification Certificate or trade certificate.
Also, candidates must have a previous work experience. Or a minimum of 12 months full-time work experience in their current occupation in Alberta within the last 18 months. Or a minimum of 24 months of full-time work experience in their current occupation in Canada and/or abroad within the last 30 months. In this last scenario, the work experience can be a combination of Canadian work experience (Alberta or any other province) and/or abroad.
Read more: Better integrate and increase Canada immigration rate are a must
AINP "opportunity stream" income and language requirements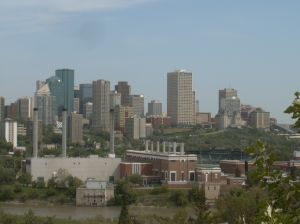 Also, in other to be eligible, candidates must prove their abilities in French or English languages taking a score of 4 or higher in the Canadian Language Benchmark (CLB). Only an official test recognized by Alberta immigration authorities is valid for the CLB score. In comparison to other programs, especially the Federal Skilled Worker Class, this is a low score to achieve. But for nurse aides, orderlies and patient service associates (NOC 3413), the CLB must be 7 or higher.
Finally, candidates have to prove to have enough income for this program. The exact amount of money depends on how big is the family of the candidate. Check the chart below to find out:
Read more: Canada increases dependent children age limit for immigration programs
Check if you are eligible to work in Canada
Alberta immigration ineligible occupations
All the occupations on the following list ARE NOT eligible for the AINP "opportunity stream".
*only those without certification as a Child Development Worker (Level 2) or Child Development Supervisor (Level 3) through Alberta Children's Services – Child Care Staff Certification Office.
Read more: Becoming a citizen will be easier after the latest Canadian Citizenship change
Let Mercan Group represent you
Mercan Group has the experience and expertise to guide you through your application process. From picking an immigration category to giving you all the preparation needed, Mercan will be there for you. Also, preparing you for an interview with the Immigration Office and following up with the Visa. We would be delighted to be your representative in an International Mobility Program (IMP), a  Federal Self-Employed Program, a Provincial Nominee Program or any other working program you pick. And, later, help you on your Permanent Residency and Citizenship applications. So, in all of these cases, you can count on Mercan Group of Companies to help you. Contact us.

How can we help you

(2 EASY STEPS)

?
1-Fill Mercan Group Free Assessment.
2-Check your email regularly. Wait for our professional immigration team to give a full assessment feedback. And how to proceed and what are the next steps.