Canadian economic growth in 2017: Calgary and Edmonton are on top
Forecasted to be the metropolitan areas with the fastest growth in Canada's economy this year, Calgary and Edmonton are bringing impressive results not only to the province of Alberta but for the entire country. A study from Conference Board of Canada's Metropolitan Outlook released on this fall brings data about the reasons behind that success. Also, it brings some insights that show why this might be a good area for immigrating to Canada.
Read more: Atlantic Canada provinces need more immigrants
Canadian economic growth: a study about 2017
The study took into consideration thirteen big metropolitan economies in Canada. They are Halifax, Quebec City, Montreal, Ottawa-Gatineau, Toronto, Hamilton, Winnipeg, Regina, Saskatoon, Calgary, Edmonton, Vancouver, and Victoria. And among all of them, Calgary and Edmonton showed the higher percentages of economic growth in 2017: 4.6 and 3.9, respectively.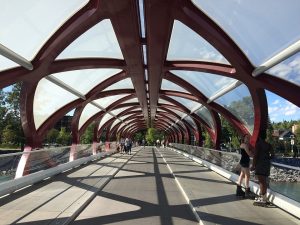 That, according to the study report, was thanks to a rebound in drilling and increases in oil production. These are subsiding of the impact of the oil price shock that has hit Alberta. And, therefore, are helping Alberta's economy to get stronger and lead Canadian economic growth this year.
Following Alberta's biggest metropolises, Regina and Saskatoon are also taking advantage of a gradual rise in the prices of commodities. They are helping to fuel real Gross domestic product (GDP) of Canada in 2017 with gains of 2.9% and 3.6%. While Toronto, Hamilton, Winnipeg, Québec City, Vancouver, and Montreal will all enjoy real GDP growth of 2.9% or more in 2017. That is the result of a substantial growth in wholesale and retail trade due to consumer spending.
In 2017, Ottawa–Gatineau's economy will expand by 2.5% and Victoria's expansion will be of 2.4%. That growth is due to ongoing recoveries in public administration output. Finally, Halifax's real GDP growth of 1.4% will trail that of other major Canadian metropolitan areas in 2017. That result comes from a contraction in primary and utilities sector output, especially of the offshore natural gas sector.
Read more: In-demand job opportunities in Ontario; Saskatchewan; British Columbia and Nova Scotia.
Check if you are eligible to work in Canada
Alberta economic development: insights for Calgary and Edmonton
Despite the encouraging results this year, Calgary and Edmonton tend to experience moderate growth for 2018. The study of Conference Board of Canada suggests that due to the difficulties in raising the oil prices above US$50 a barrel. The trends are: Calgary's economy slow down from 4.6% this year to 2.1% growth in 2018 while Edmonton's real GDP goes from 3.9% in 2017 to 2.2% next year.
But there are still some good insights for each city, proving that you should consider immigrating to the province of Alberta.
Calgary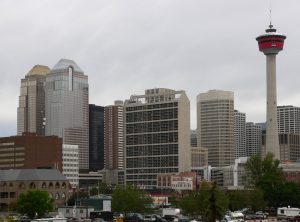 Calgary will lead Canada's economic growth this year among the other thirteen metropolises analyzed. Its economy is expected to expand by 4.6% this year. New investments and drilling increase are stimulating growth in the primary and utilities and manufacturing sectors. And while the construction industry is slowly recovering, strong job gains are encouraging consumers to open their purse strings on the services side. That is raising wholesale and retail output by 7%.
The transportation and warehousing industry, on the other side, are receiving a lift from rising goods sector activity. Also, the finance, insurance, and real estate industries are taking advantage of the housing market recovery. As the oil industry is rising slowly, Calgary's real GDP growth is not expected to be as warm in 2018 as it is going to be on 2017.
The same is expected to happen with the employment rate. While job growth will moderate from 2.7% in 2017 to 1.1% in 2018, according to the trends. But the region still very promising, especially, for workers from the oil sector since the unemployment rate is still going down and the industry follows a path of recovery.
Check if you are eligible to work in Canada
Read more: How can you immigrate to Canada as a self-employed worker
Edmonton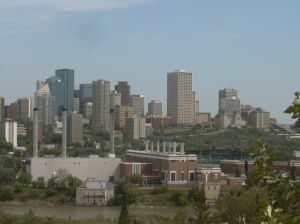 The second biggest city in Alberta is also going to be the second on pushing up Canada's economic growth in 2017. As Edmonton is taking advantage of the higher oil prices, increased investment, and drilling plans. Also for 2017, the local primary and utilities' industry and manufacture sector are expected to show big gains of 7.2% and 5.6% respectively. And while the construction sector is still recovering, builders have come back to Edmonton's housing market despite still-high inventories.
The economy's near-term perspective is modest but at the same time promising, in line with the expected gradual increases in oil prices. And despite the small rise in the 2017 employment rate, the small interest rate and brighter economic prospects helped to stimulate consumer spending. That made retail sales more robust this year, pushing into an expected growth in wholesale and retail trade above 4% in 2017.
Finally, although consumer spending tends to slow down a bit next year, the job growth rate is expected to improve while Edmonton's unemployment rate is expected fall.
Read more: Becoming a citizen will be easier after the latest Canadian Citizenship change
Let Mercan Group help you
Are you interested in working in these Alberta promising metropolises or any other big metropolis in Canada? Let Mercan help you! Mercan Group has the experience and expertise to guide you through your application process. From picking an immigration category to giving you all the preparation needed, Mercan will be there for you. Also, preparing you for an interview with the Immigration Office and following up with the Visa.
We would be delighted to be your representative in an International Mobility Program (IMP), a  Federal Self-Employed Program, a Provincial Nominee Program or any other working program you pick. And, later on, help you on your Permanent Residency and Citizenship applications. So, in all of these cases, you can count on Mercan Group of Companies to help you. Contact us.

How can we help you

(2 EASY STEPS)

?
1-Fill Mercan Group Free Assessment.
2-Check your email regularly. Wait for our professional immigration team to give a full assessment feedback. And how to proceed and what are the next steps.