Atlantic Canada provinces need more immigrants
Do you want to immigrate to Canada, but don't know where to go? Atlantic Canada may be the right choice for you. The Atlantic Canada comprehends the New Brunswick, Prince Edward Island, Nova Scotia, and Newfoundland and Labrador provinces. And they need to increase immigration rates more than ever, according to a recent study published by the Conference Board of Canada. Due to Atlantic Canada's demography and economy nowadays, immigrants are the only solution to reverse the current trends and start to grow substantially.
Read more: In-demand job opportunities in Ontario; Saskatchewan; British Columbia and Nova Scotia.
Why Atlantic Canada needs more workers?
Population aging and need to improve immigration rates are a reality in the entire Canada, but in the Atlantic area, they are more pronounced. In 2014, the region's natural rate of increase turned negative. It means that the number of deaths overcame the number of births. Also, in 2016, 19.5% of Atlantic Canada's population was aged 65 and over, while the national average of 16.5%. Thus, based on the recent trends shown on the Conference Board of Canada report, the Atlantic Canada's population growth will remain flat through to 2035, even with a modest pickup in immigration.
Also, the baby boomers' generation is going in a growing wave of retiring. It suggests that Atlantic Canada's workforce will decline widely between now and 2035. And a decline like that might result in a drastic economic downturn. It can also affect government revenues, consequently, the quality of the health care system while happens a rapidly aging population. And the older the population the likely they are to need good medical service.
Politically, a smaller population would mean a smaller voice for the region at the federal level. While looking to the economic perspective, through time, it could cause a vicious negative cycle. Small demand would lead to few business investments and, consequently, a timid or inexistent employment growth.
In other to solve those issues and keep the economy warm, according to the Conference Board of Canada report, Atlantic Canada should invest more in ways of attracting and retaining the newcomers. And the better the economy, more likely are the Atlantic Canada provinces to receive federal and external investments that will encourage innovation and entrepreneurship. Consequently, bringing a prosperous future for the region.
Read more: How can you immigrate to Canada as a self-employed worker
Check if you are eligible to work in Canada
Reinforcing the Atlantic Immigration Pilot
Atlantic Canada has the smallest immigrant population and the fewest number of newcomer arrivals among other provinces. But immigration to the region is rising, particularly in its largest cities, like Halifax, Charlottetown, and Fredericton, for example. Those cities correspond to 80% of where newcomers to Atlantic Canada settle. Also, 13,665 immigrants arrived in the Atlantic provinces in 2016, almost five times the amount of people that arrived in 1999 to the same region.
It still very early to say, since it was launched in March 2017, but due to the Atlantic Immigration Pilot, these numbers tend to go even higher. The Atlantic Immigration Pilot is a federal program meant to boost immigration in the region. And the three-year pilot will concede Permanent Residency to a maximum of 2,000 candidates and their dependents under the economic class in 2017.
Read more: The 25 best places to work in Canada
Immigration statistics in the Atlantic Canada provinces
According to insights on the Conference Board of Canada report, the success of the Atlantic Immigration Pilot will depend on government, both federal and provincial, immigration services and employers doing their part on settling and integrating immigrants. There is even a current governmental effort to improve retention rates of international students in Atlantic Canada after graduation.
Talking about rates, the Atlantic Canada provinces have the smallest immigrant population. And also the fewest numbers of new arrivals in comparison to the other provinces of the country. And among the provinces that are part of the region, Nova Scotia is the leader in bringing more newcomers. In 2011, Nova Scotia (N.S.) brought 5.3% of all immigrants that came in this year to Canada. Nova Scotia was followed by Prince Edward Island (P.E.I.) that brought 5.1%, New Brunswick (N.B.) with 3.9% and Newfoundland and Labrador (N.L.) with 1.8%.
Read more: Cost of studying in Canada for international students
Check if you are eligible to work in Canada
These numbers are far behind the national proportion for the year of 2011 when immigrants made up 20.6% of Canada's population. In 2016, there was a small improvement. Especially because P.E.I. received more immigrants in relation to its percentage share of Canada's population. But P.E.I was the only Atlantic province that did it. This fact indicates that the region still behind in immigration numbers in comparison to the rest of Canada, as you can see in the two following charts extracted from the Conference Board of Canada recent report. But it is also possible to see that they are tending to get higher.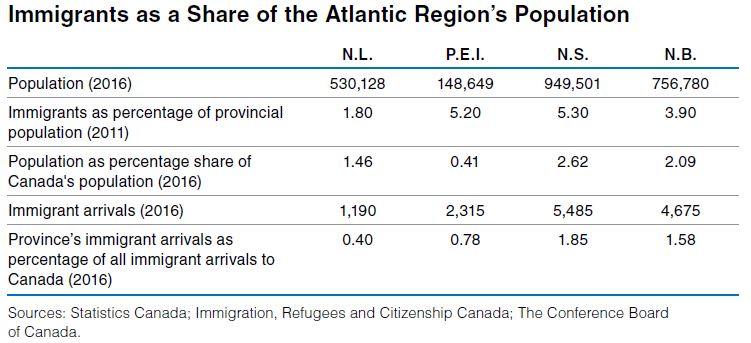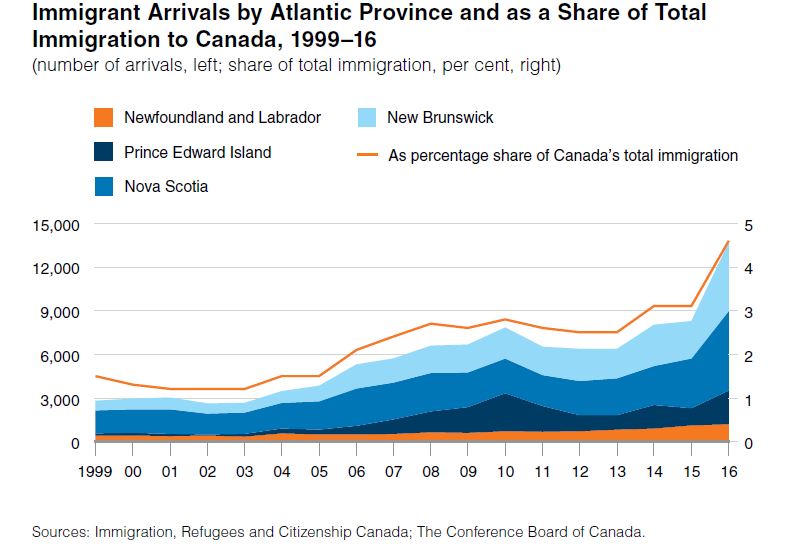 Check if you are eligible to work in Canada
Overall, Atlantic Canada's immigration as a share of total immigration to Canada has doubled to 3.1% in recent years, compared with 1.5% or lower prior to 2006. The retention rates are also increasing, as you can see in these other two charts from the same report:


In conclusion, Atlantic Canada's immigration arrival and retention rates have increased and still in a positive direction, especially after the Atlantic Immigration Pilot started. But it clearly has to grow faster and higher to keep the same rhythm of the rest of the country and to boost the regions' economy.
Read more: Becoming a citizen will be easier after the latest Canadian Citizenship change
Let Mercan Group represent you
Mercan Group has the experience and expertise to guide you through your application process. From picking an immigration category to giving you all the preparation needed, Mercan will be there for you. Also, preparing you for an interview with the Immigration Office and following up with the Visa. We would be delighted to be your representative in an International Mobility Program (IMP), a  Federal Self-Employed Program, a Provincial Nominee Program or any other working program you pick. And, later, help you on your Permanent Residency and Citizenship applications. So, in all of these cases, you can count on Mercan Group of Companies to help you. Contact us.

How can we help you

(2 EASY STEPS)

?
1-Fill Mercan Group Free Assessment.
2-Check your email regularly. Wait for our professional immigration team to give a full assessment feedback. And how to proceed and what are the next steps.