More international students are enroling in Canadian universities
There are many reasons why international students love to study in Canada. And it seems that more and more students are coming to Canadian universities through the years. Therefore, the enrolment of international students in Canadian universities has more than doubled in the last decade, according to the site Universities Canada. In 2006, 83,000 enroled in Canadian universities. In 2016, that number jumped to 175,000. So it means an average growth rate of 7% per year over this period.
And the trend is to keep growing, which is a great deal for Canada's economy. Global Affairs Canada estimated that in 2014, international students in Canada spent $11.4 billion Canadian dollars in the country. That value includes tuition, accommodation and other living and leisure expenses. That represents an economic impact bigger than the exportation value of softwood lumber or wheat.
Check below an infographic with the profile of international students in Canadian universities:
Check if you are eligible to study in Canada
About the Canadian universities
According to the Graduating University Student Survey, released in 2015 by the Canadian University Survey Consortium, 70% of students (including born Canadians and international students) were satisfied or very satisfied with opportunities to learn beyond the classrooms. That includes undergraduate research, service-learning, and student exchanges. It is interesting to notice that 97% of Canadian universities offer international experiences.
Also, one out of four students participates in a faculty research. And students that do research in the university are more likely to become better professionals. Because researching wake up students' passion for discovery and make them develop problem-solving skills. That data comes from the National Survey of Student Engagement of 2016.
Read more: Cost of studying in Canada for international students
Read more: More anglophones are choosing French universities in Quebec
After graduation: former students on the job market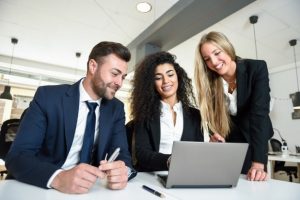 And there is also good news for the former students of Canadian universities when they reach the job market. From March 2008 to March 2017, more than one million new jobs were created for university graduates. To be more precise, according to Statistics Canada, Labour Force Survey, 2008-2017, it was 1,574,200 new jobs. This is almost three times more than all other types of postsecondary education combined.
In addition, the salary is also encouraging. Salaries rose more than 70% on average over the eight-year period after graduation for Social sciences and humanities graduates. The result was similar among engineering and science grads, says the Education Policy Research Initiative in 2016.
Finally, 80% of employers see career benefits in hiring former students of Canadian universities. That means that employers value the "cross-cultural understanding and the knowledge of the global marketplace" that students acquire in Canadian universities, says the Leger Marketing employer survey for Universities Canada in 2014. Also, for these employees having students like that enhance their company's competitiveness.
Read more: International students performance on Canada job market after graduation
Read more: Canada colleges are the new cherished in North America
Why study in Canada?
Canada's high academic standards and rigorous quality controls guarantee a high-quality education. And that will open doors for your future career and make your curriculum prestigious. Moreover, international students in Canada are allowed to work while studying inside and off campus. Normally, they get part-time jobs to get some extra money and help to pay the living expenses. Also, lots of them continue to work in Canada after graduation. In addition, there is a governmental policy in the Atlantic Canada to improve international student retention rates.
Are you interested in studying in Canada? So start planning your studying experience now and let Mercan Group help you on that. Mercan has the experience and expertise to guide you through the Study Permit application process. And if you are already a student in Canada and wants to apply for post-graduation work permit or to stay as a permanent resident after graduation, Mercan can also help you. Contact us.

How can we help you

(2 EASY STEPS)

?
1-Fill Mercan Group Free Assessment.
2-Check your email regularly. Wait for our professional immigration team to give a full assessment feedback on how to proceed. And next steps you should follow.