Indians and Chinese in the Canadian Immigration map
Canada's great opportunities for working and studying make the country a cherished destination for immigrants and international students. That for sure includes India and China, two countries that stand out in Asia by their territory sizes, big populations, and growing economies. And a new report from the Canadian government brings some special data about the number of Canadian Study and Work Permits issued just for India and China in the last two years and in the first semester of 2017.
Read more: Express Entry news: Human Capital factors and September pool
India: more Canadian Work and Temporary Permits in Canada
New information from the Canadian government shows that India already topped China in obtaining Work Permit under Canada's International Mobility Program in the first semester of this year. From January to June 2017, 13,670 Indians got Canadian Work Permits. While only 8,680 Chinese workers got permission to work in Canada.
And when it comes to the Temporary Foreign Worker Program (TFWP), the situation is the same. Indians left Chinese behind with 2,190 temporary permits. It is 1,555 more than the 635 Chinese workers that got a temporary permit to work in Canada. Also whether it is for working or citizenship, Canada attracts more Indians than Chinese. And that is a trend seen before. In 2016, 30,850 Indians got Canadian Work Permits, a rise of almost 50% over the year before. And it tends to keep like that in 2017.
The explanation might have something to do with the recent restrictions on the H-1B American Visa for skilled workers outside America. That policy made Canada even more attractive to immigrants, especially from the Tech sector, which is an area where Indians stand out. Canada's Tech Orbit can be the biggest beneficiate with this restrictive policy of America. Also, Canadian companies are allowed to hire skilled workers through the International Mobility Program (IMP), without a Labour Market Impact Assessment (LMIA), to fill labor needs.
Check if you are eligible to work in Canada
Read more: BC PNP Tech Pilot has in-demand job opportunities
Chinese: more work in the USA and more study in Canada
That shows a contrast with Canada's neighbor. In the USA, comparatively, Chinese lead the immigration trends related to work and Permanent Residency. Using Green Card as a parameter, for example, Chinese got 74,6 thousand Green Cards during 2015 while Indians got 64,1 thousand. That data comes from the International Migration Outlook of 2017, released by the Organisation for Economic Cooperation and Development.
And when it comes to Study Permits in Canada, China beats India. Between 2009 and 2013, China was the country with more Canadian Study Permits issued and India was the second. They represented 22% and 11%, respectively, of all the permits issued by Canada in this period. In 2015, Study Permits for Chinese were more than the double of Study Permits for Indians. In 2016, the difference dropped significantly. And during the first semester of 2017, the number of Chinese students was just a bit higher: less than 5,000.
Read more: Cost of studying in Canada for international students
Check if you are eligible to study in Canada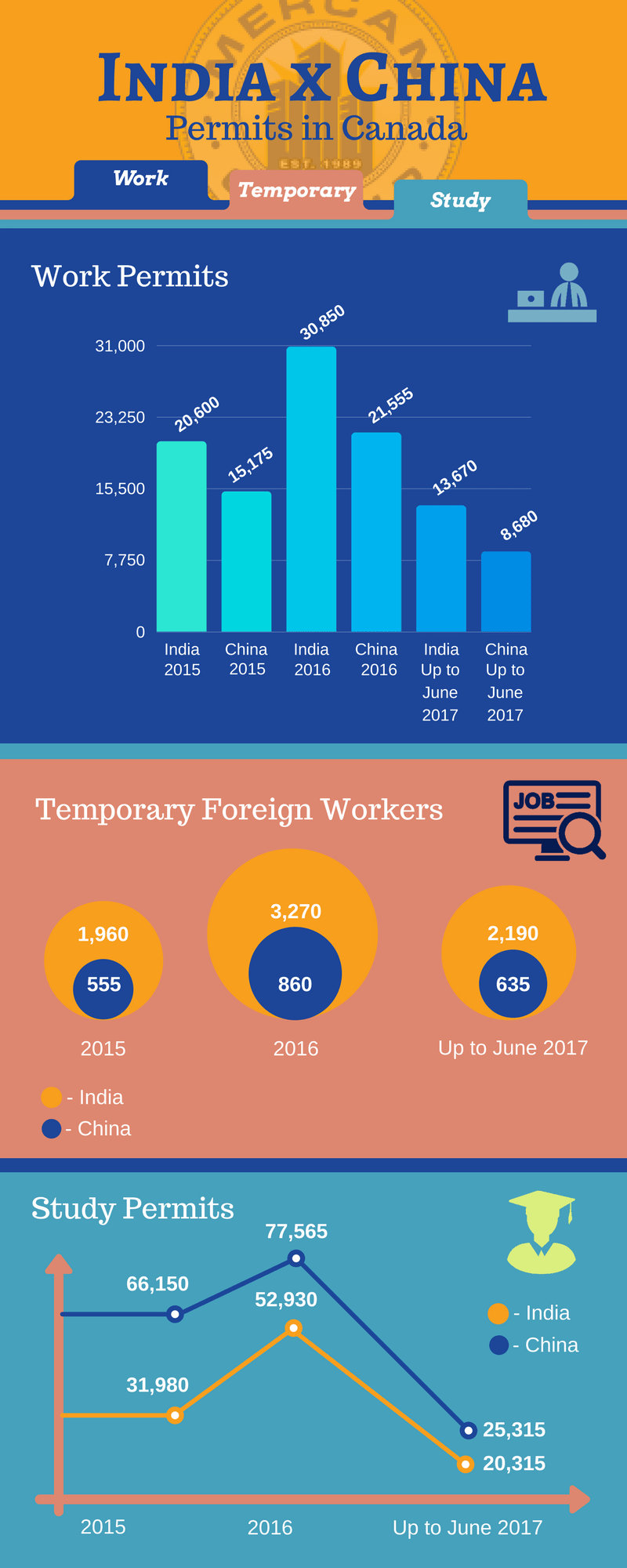 Canada's International Mobility Program
Lots os Indias come to Canada through the International Mobility Program (IMP). That immigration program allows employers to hire foreign workers without a LMIA, in three categories: Mobility Francophone, International Experience Canada, and Inter-Company Transferees. And the International Experience Canada (IEC) also comprehends three subcategories: Working Holiday, Young Professionals and International Co-op Internships.
However, to hire under that program employers must satisfy the following: hiring this foreign worker broadens economic, cultural or competitive advantage for Canada and; and having reciprocal benefits that Canadians and permanent residents enjoy.
Read more: The 25 best places to work in Canada
Why study in Canada?
Canada's high academic standards and rigorous quality controls guarantee a high-quality education. And that will open doors for your future career and make your curriculum prestigious. Beyond that, international students in Canada are allowed to work while studying inside and off campus. Normally, they get part-time jobs to get some extra money and help to pay the living expenses. And lots of them continue to work in Canada after graduation. That is one of the many reasons why people choose Canada for their study experience abroad. There is even a governmental policy in the Atlantic Canada to improve international student retention rates. And special working programs for Quebec, like Quebec skilled worker program and Quebec self-employed program.
Read more: International students performance on Canada job market after graduation
LET MERCAN GROUP REPRESENT YOU
Mercan Group has the experience and expertise to guide you through your application process. From picking an immigration category to giving you all the preparation need and filing your application forms, Mercan will be there for you. Also, preparing you for an interview with the Immigration Office and following up with the Visa. We will be delighted to represent you in an International Mobility Program (IMP), a Provincial Nominee Program or any other working program you pick. We also can help you with a Canadian Study Permit, if you need. So, in all of these cases, you can always count on Mercan Group of Companies to help you. Contact us.

How can we help you

(2 EASY STEPS)

?
1-Fill Mercan Group Free Assessment.
2-Check your email regularly. Wait for our professional immigration team to give a full assessment feedback on how to proceed and what are the next steps.