More anglophones are choosing French universities in Quebec
Although it might be very hard at the beginning to adapt, more and more anglophones students are challenging themselves and picking a French university in the province of Quebec. That is what shows a study released this summer by the Office de la Langue Française. The study claims a significant increase in the number of applications of mother tongue English students in French universities of Quebec.
According to the Office de la Langue Française study, in 2002, just 5.9 per cent of the Quebec-born English speaker students opted to go to a French university. By 2014, that number had risen to 9.5 per cent. These number might not seem impressive, but the increase rate is. The number of English speakers studying in French universities hiked 83 per cent in just over a decade.
Despite this huge rate hiking, the numbers of French students that go English universities still bigger than the inverse. If you compare the percentages, approximately 23 per cent of Concordia and 20 per cent of McGill University students have French as their mother tongue. But English students are actually doing the linguistic crossover in higher numbers than their French speakers' colleagues. In 2014, 95 per cent of Quebec-born French mother-tongue speakers went to study at French universities.

THE FRENCH UNIVERSITIES
On the other side, Francophone universities are also more open to English students. Not only to increase their student numbers but also to improve the diversity inside the campus while they are still students and outside when they become part of the job market.
Jack Jedwab, the executive vice-president of the Association for Canadian Studies and the Canadian Institute for Identities and Migration who has taught at McGill and UQAM, sees the trend of having more English students as a reflection of young anglophones' increasing desire to make a go of it in their home province rather than seek job positions in other provinces like Ontario or BC, where English is the most spoken language.
Check if you are eligible to study in Canada
WHY MONTREAL?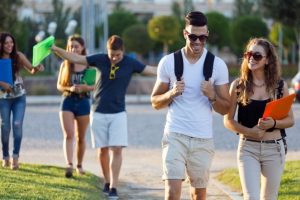 The trend seems to fit perfectly in Montreal. Extremely searched for Canadian and foreign students, whiling to take lessons in French or in English, the city was recently voted the best place to study as an international student by a global higher education analysis firm. Montreal beat out cities like London, Paris, and Tokyo.
And it is important to remember that the community of English speakers in Quebec doesn't only includes born Canadians. Jack Jedwab, the executive vice-president of the Association for Canadian Studies and the Canadian Institute for Identities and Migration, says that "If you look at the bilingualism figures across the country right now, we are generating here in Quebec by far the most significant degree of bilingualism among anglophones and francophones".
He also complements: "We have the most trilingual population, I would argue, of any region in North America. Because of the immigrants coming here who don't speak any English or French when they arrive. Then they learn French and English". And he finishes: "That's a real advantage we have in Montreal. And I think we're increasingly seeing it as an advantage and not something to be frightened about."
Check if you are eligible to study in Canada
BENEFITS OF STUDYING IN A FRENCH UNIVERSITY AS AN ENGLISH SPEAKER
Studying and attending exams in a new language can be very tricky, but it can be very rewarding as well. Not only to improve the language abilities, English speakers are searching for French universities to increase their chances of finding a job. And in the case of international students, also the chances staying in Quebec after graduation. In the law area, for example, ninety-five per cent of legal work in Quebec is in the French language. That includes discussions among lawyers, procedural work, and most courtroom litigation.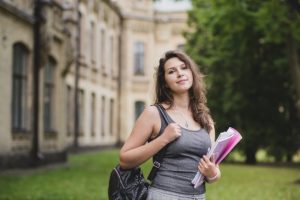 Even more prepared for a career, anglophones studying in French improve employment prospects and overall integration into the province of Quebec. And an integration to the Canadian job market as well, since the country valorizes multilingualism and multiculturalism.
Why study in Canada?
Canada's high academic standards and rigorous quality controls guarantee a high-quality education. And that will open doors for your future career and make your curriculum prestigious. Beyond that, international students in Canada are allowed to work while studying inside and off campus. Normally, they get part-time jobs to get some extra money and help to pay the living expenses. And lots of them continue to work in Canada after graduation. That is one of the many reasons why people choose Canada for their study experience abroad. There is even a governmental policy in the Atlantic Canada to improve international students retention rates. And special working programs for Quebec, like Quebec skilled worker program and Quebec self-employed program.
Are you interested in studying in Canada? So start planning your studying experience now and let Mercan Group help you on that. Mercan has the experience and expertise to guide you through the Study Permit application process. And if you are already a student in Canada and wants to apply for post-graduation work permit or to stay as a permanent resident after graduation, Mercan can also help you. Contact us.

How can we help you

(2 EASY STEPS)

?
1-Fill Mercan Group Free Assessment.
2-Check your email regularly. Wait for our professional immigration team to give a full assessment feedback on how to proceed. And next steps you should follow.