International students performance on job market in Canada after graduation
More and more over the years, international students in Canada are likely to stay after graduation as permanent residents. The possibility to get a Post-Graduation Work Permit is one of the many reasons why people choose Canada for their study experience abroad. There is even a governmental policy in the Atlantic Canada to improve international students retention rates.
And recently, Canada's government has launched some studies about international students performance on the job market after graduation. The studies basically reveal that previous work experience can make a big difference the incomes students will receive after graduation.
The new report from Statistic Canada suggests that former international students in Canada have an earning advantage over other immigrants. And this advantage appears when they get experienced into the job market and compete with workers with university degrees acquired abroad. But researchers also found that this advantage can vary a lot depending on other factors.
Check if you are eligible to study in Canada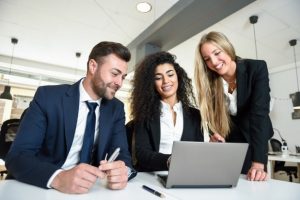 Pre-landing work experience is one of these factors. Therefore, the researchers analyzed three groups of university graduates and their earnings trajectories. They analyzed in two different periods (1991 and 2006) for six years (1991 to 1997 and 2006 to 2012). The first group contains the international students who became immigrants after graduation. Workers graduated abroad is what defines the second group. And the third represents born Canadian graduates. In all the groups, in the two periods of 1991 and 2006, the public was 25 to 34 years old. And the studies included male and female graduates.
Comparing Canadian‑educated and foreign‑educated immigrants
In all the comparisons, born Canadians earned higher incomes than the other groups. But the differences dropped significantly after six years of work. Most of these earnings gaps were due to differences in the work histories of Canadian born and immigrant graduates. For example, 12% of male Canadian educated immigrants had no work experience in Canada and 40% had prior work experience with under $20,000 annual earnings. Among male Canadian born graduates, virtually all had prior work experience and almost 90% had prior work experience with $20,000 and over annual earnings. Also these patterns were widely similar among females.
The study revealed:
Work experience makes difference
When considering the prior Canadian work experience, the earnings gap between Canadian-educated immigrants and Canadian born graduates in the 2006 period disappeared among both sexes. So, in like manner, prior work experience accounted for much of the earnings gap observed among the 1991 search.
Also, the studies revealed that Canadian educated immigrants had higher post-immigration earnings than foreign-educated immigrants, although prior work experience once again was an important factor. Five years after landing, male Canadian educated immigrants with no work experience had annual earnings 20% below those of male foreign-educated immigrants. While among women, the deficit was 7%.
In conclusion, the results suggest that pre-landing Canadian work experience and earnings play an increasing role in differentiating the post-immigration job market outcomes of university-educated immigrants.
Check if you are eligible to study in Canada
Labor force survey
Statistics Canada published another very recent report about labor force by the level of education. The report is called "Labour force survey estimates (LFS), by immigrant status, educational attainment, sex and age group, Canada, 3-month moving average, unadjusted for seasonality". Most of all, this research makes a comparison between born Canadians and landed immigrants*, showing their employment rates** in the period analyzed. The employment rate (formerly the employment/population ratio) is the number of people employed expressed as a percentage of the population 15 years of age and over. And the report considered labor force 15 years and over workers of both sexes living in Canada.
*By landed immigrants, the research means people granted the right to live in Canada permanently by immigration authorities.
**The employment rate for a particular group is the number employed in that group expressed as a percentage of the population for that group. And estimates are percentages, rounded to the nearest tenth.
The study revealed:
Why should you be an international student in Canada?
Canada's high academic standards and rigorous quality controls guarantee a high-quality education. And that will open doors for your future career and make your curriculum prestigious. Beyond that, international students in Canada are allowed to work while studying inside and off campus. Normally, they get part-time jobs to get some extra money and help to pay the living expenses. And lots of them continue to work in Canada after graduation.
Are you interested in studying in Canada? So start planning your studying experience now and let Mercan Group help you on that. Mercan has the experience and expertise to guide you through the Study Permit application process. And if you are already a student in Canada and wants to apply for post-graduation work permit or to stay as a permanent resident after graduation, Mercan can also help you. Contact us.

How can we help you

(2 EASY STEPS)

?
1-Fill Mercan Group Free Assessment.
2-Check your email regularly. Wait for our professional immigration team to give a full assessment feedback on how to proceed. And what are the next steps.