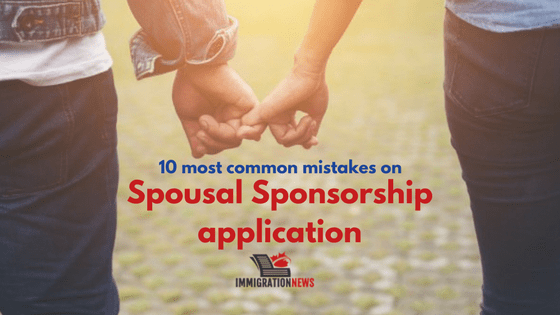 It is a sure thing that having a good immigration company by your side increases your chances to have any family reunification application accepted. Immigration experts make processes go faster and without any mistakes. But whether applying or not with a consultant, there is always important information to be revised before submitting. And when it is about Spousal Sponsorship application things can get really tricky. For example, the applicant is the person who wants to sponsor the spouse or the spouse? What is a good supporting document for this type of application? See the list below for the answers and much more.
10 most common mistakes on Spousal Sponsorship application
1 – Outdated forms
I know! All theses documents look the same and they are full of difficult questions. However, the Canadian government is very rigorous in application processes. And some documents are updated several times a year to collect even more information from applicants. For this reason, having the newest version of forms is so important. Otherwise, your application might be returned and will have to fill the forms all over again.
2- Incorrect answers on the forms
That is probably the most common mistake while applying for Spousal Sponsorship. Your application can be returned or even denied due to irrelevant or incorrect answers on the forms. If you are not sure of the meaning of a question, you better search for professional help.

3- Blank spaces on the forms
Omitting information can be very harmful to the process. It might look very suspicious to the government. And the least it can happen is having your Spousal Sponsorship application returned to you. A good way to avoid that is putting "Not Applicable" or "N/A" on the blank instead of leaving it empty.
4- Sponsor and Applicant: who is who
The specific terms used by the government on its forms can lead you to this very usual mistake. When talking about sponsorship application, the "sponsor" is the Canadian citizen or permanent resident that wants to bring their spouse or common-law partner into Canada. And the "Applicant" is the one that is applying to come to Canada and live here as a permanent resident.
Note that the sponsor and the applicant must fill out separate forms. Make sure that each one fills out the correct before sending to the government. If filled by the wrong person, it will be sure returned.
5 – Incorrect, inadequate or incomplete supporting documents
To be issued, all the Spousal Sponsorship applications should have accurate and adequate supporting documents that prove what is written on the forms and that the relationship between the couple is real. Normally, the supporting documents are registers of personal interaction between the couple. It can be anything that proves that the sponsor and the applicant are together for a while, like photos, greeting cards, receipts of money transferences between the sponsor and the applicant, text messages, social media interactions or status, emails, letters, phone records, etc.
Is important to say that you must never include inappropriate pictures as an evidence of your relationship. Also, note that If not enough supporting documents are submitted, the application can be returned or even denied.
Check if you are eligible to Sponsor a spouse into Canada
6 – Incorrect register of fingerprints
The fingerprints must be done both for sponsor and applicant by the Royal Canadian Mounted Police, one of their recognized agents or the local police in the applicant's home country. And no: just stamping your fingerprint in a white paper and attaching to your application will not work.
7- Non-designated doctor examination
It can sound a bit picky, but applicants must prove that they are in good health to apply for Spousal Sponsorship and become a permanent resident in Canada. Applicants shouldn't have diseases that can treat the public health, like tuberculosis, or that will burden the Canadian healthcare system.
And only designated doctors are authorized to execute medical tests for immigration purposes. There is an official list of doctors inside and outside Canada that can conduct these tests. Any tests issued by a doctor that is not on the official list will be rejected. And the applicants must redo the tests with a designated doctor.
8- Incorrect application category
Make sure that you are applying under the Family Class stream to become a permanent resident in Canada. Because if your goal is sponsoring a spouse that is the category you should go for it.
9 – Saying lies on the forms
This is not exactly a mistake since it is done not in a good faith. But, it is always important to remember that this is a federal crime. Never submit a Spousal Sponsorship that has untruthful or fraudulent information. And have always in mind that for sponsoring you must truly be a Canadian citizen of a permanent resident in Canada.
10 – Relationship should be real
I know we already told you that, but we will give more details now. You can only apply if already are in a relationship. Never, as a sponsor, apply before being committed with the applicant. It also means that you can't sponsor a spouse if you still not divorced from a previous spouse, if applicable.
Sponsor eligibility requirement
To sponsor your spouse or common-law partner, you must:
be 18 years of age or older,
has to be a Canadian citizen, Registered Indian or permanent resident,
be sponsoring a member of the family Class,
live in Canada or provide evidence, if you are a Canadian citizen living outside of Canada, that you will live in Canada once the person you are sponsoring becomes a permanent resident.
sign an agreement with your spouse or common-law partner confirming that each of you understands your obligations and responsibilities,
sign an undertaking promising to provide for your spouse or common-law partner's basic requirements and, if applicable, those of his or her dependent children,
prove that you have sufficient income to provide basic requirements for your spouse or common-law partner's dependent children. To do this, you must provide documents showing your financial resources for the past 12 months. This requirement applies only when dependent children who have dependent children of their own are included on the application.
Good to know:
The medical and criminal backgrounds will be considered on the Spousal Sponsorship application, just like the general eligibility criteria and the proves that the relationship is real. If everything is ok, it is very unlikely that the Canadian government refuse the application. Also, have in mind that a refused application made outside Canada, you can appeal the decision. But a Spousal Sponsorship application issued inside Canada don't have that right.
The total cost of fees for sponsoring a spouse in Canada and making him or her a permanent residence is 1,040 CAN$ [Sponsorship fee ($75), principal applicant processing fee ($475) and right of permanent residence fee ($490)]. The processing time may vary depending on when the application process has started or if it is inside or outside Canada.
Reuniting families is Canada's top immigration priority. The government normally will not refuse a Spousal Sponsorship application without a serious reason. But to maximize your chances to being accepted, be honest and ask for professional help.
LET MERCAN GROUP HELP YOUR FAMILY
If you are a Canadian citizen or a permanent resident and want to bring your spouse to live with you, Mecan Group can help. Mercan delivers expert service to reunite you with your family. Our experience of processing family applications for the past 25 years will help make the process easy and efficient for you. And we can help you not only with Spousal Sponsorship but any other Family Reunification process, like Super Visa, Sponsoring Parents and Grandparents and Sponsoring other relatives. Contact us.

How can we help you

(2 EASY STEPS)

?
1-Fill Mercan Group Free Assessment.
2-Check your email regularly and Wait for our professional immigration team to give a full assessment feedback on how to proceed and what are the next steps.