Cost of studying in Canada for international students
Canada has very affordable education fees in comparison to other developed countries. That is one of the reasons why college students are searching more for Canada instead of USA. And for an international student, the cost of studying in Canada and living expenses vary between $20,000 and $30,000, in Canadian dollars, per year.
But, have in mind that the cost of studying in Canada can change a lot depending on the enrolled program, institution, city and the standards of living expenses. And talking specifically about tuition fees for foreigner students, the costs vary across programs and provinces. You can find below the weighted average tuition fees, by field of study, for full-time international students.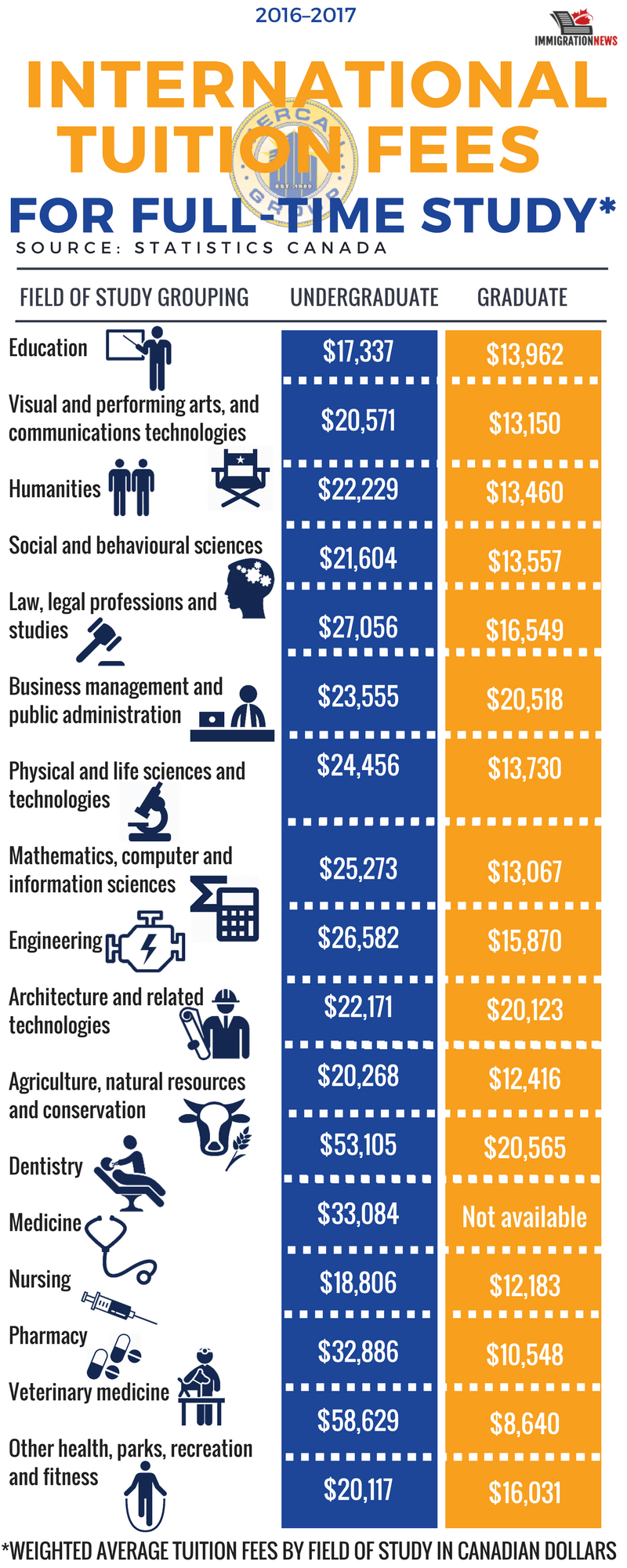 Check if you are eligible to study in Canada
Other costs of studying in Canada
International students are often very concerned about paying the tuition fees, but they can't forget about other costs. Books, living expenses and housing should also be on the budget. Besides that, it is important to remember that before applying for a student permit, foreign students must prove to the Canadian government that they have enough money to meet the financial needs. Average monthly costs of living are likely to be around CA$600-800 for food and other expenses, not including accommodation. Eating out at a restaurant, for example, can go between  CA$10-15 per person. A loaf of bread and a cinema ticket are, in average,  CA$2.80 and CA $12.25 respectively. The general rule here is: bigger the city the more expensive the living costs tend to be. 
Housing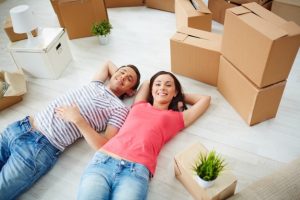 This can be one of the biggest costs besides tuition fees. Normally, students tend to search for on-campus residences on the first place because they think is already guaranteed for them. But just being accepted at a Canadian institution doesn't automatically mean you can get a room in the campus residence. You also must apply for that and check whether you want a meal plan or a private room, for example.
Another possibility is to go to a student's residence outside the campus. One of the most well-known options in this category is evo, in Montreal (Quebec). There, undergraduates can find all-inclusive accommodations and experience the indoor heated pool, game room, 24 hours open gym, fitness & yoga studio. Students also can count on library & business center, lounges, kitchens, theatre room, laundry facilities and restaurants at evo residence.

Finally, some international students choose to go for an apartment off-campus. The range of rent varies a lot in accordance to the province, the city, the neighborhood and the accommodation type. Sharing an apartment with roommates can be less expensive than living alone in a studio, for example. And normally, as close to downtown as expensive it gets. As renters, students also should be aware of possible additional fees like the internet, cable tv, electricity, and heating.
Transportation
Bike, bus, walking or metro. These are the most common transports for students to go back and forth every day from campus. In some cities is also possible to find trains and ferries. And the monthly passes range from about $80 to $110, but many transit providers offer discounts for students.
Health insurance
Foreign students from all nationalities must have health insurance in Canada. Although, some provinces like Alberta, British Columbia, Manitoba, Newfoundland and Labrador and Saskatchewan extend health insurance cover to international students under their provincial plans. But it normally depends on the length of the student program.

New Brunswick, Nova Scotia, Ontario, Prince Edward Island or Quebec don't offer this benefit. International students in theses provinces must arrange for their own private health insurance. The price for private health insurance also varies wildly depending on the medical coverage and the nationality of the applicant.
Why Canada?
There are many reasons why international students would love to study in Canada. But maybe the best ones for a great part of them is the possibility to stay in Canada after graduation. Especially in the Atlantic Canada, which has a retention program for foreign students. Also, in Canada, students are allowed to work while studying inside and off campus. Normally, they get part-time jobs to get some extra money and help to pay the living expenses.
Are you interested in studying in Canada? Start planning your studying experience and let Mercan Group help you on that. Mercan has the experience and expertise to guide you through the Study Permit application process. And if you are already a student in Canada and wants to apply for post-graduation work permit or to stay as a permanent resident after graduation, Mercan can also help you. Contact us.

How can we help you

(2 EASY STEPS)

?
1-Fill Mercan Group Free Assessment.
2-Check your email regularly and Wait for our professional immigration team to give a full assessment feedback on how to proceed and what are the next steps.