Everything you need to know about Family Sponsorship in Canada
Canadian family reunification programs are internationally known as being very generous. Just on January 2017, Immigration, Refugees and Citizenship Canada accepted 10,000 family sponsorship applications. That is because there are various ways to bring family members to immigrate to Canada too. Canadian citizen or a permanent resident can sponsor spouses or partners, dependent children, parents, grandparents and other close relatives to become permanent residents as Family Class immigrants.
Reuniting families is Canada's top immigration priority. Get to know the main Family Sponsorship programs in Canada. And check below if you are qualified to bring your family to Canada.
Spouse and Dependent Children Sponsorship
If you are a Canadian citizen or a permanent resident of Canada, it is possible to sponsor a spouse, common-law or conjugal partner or dependent children. They can be already living in Canada or outside the country. It is important to know that there is no income requirement to sponsor your spouse and dependent children.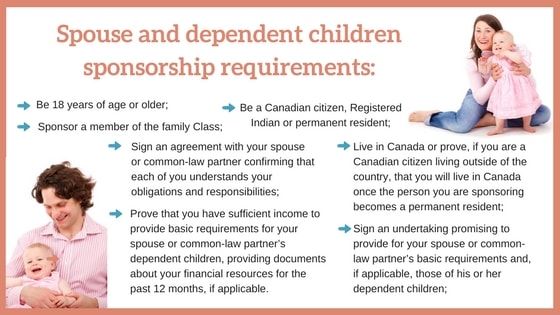 Check if you are eligible to Sponsor a Family member into Canada
Parents and Grandparents Sponsorship
The internet, nowadays, helps a lot in the communication of families separated by countries. Although, no technology replaces the value of the physical presence. Especially when it's about having parents and grandparents around on children's development, passing values and educating. The Parents and Grandparents Sponsorship program might bring these families together.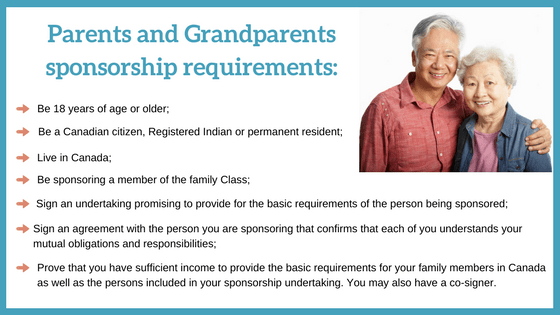 Just visiting? Get the Parent and Grandparent Super Visa
This type of application is ideal for families' visits. Mothers, fathers, grandmother or grandfathers can get the facilitated Super Visa for Parents and Grandparents to stay temporarily in Canada with sons, daughters, grandsons or granddaughters.
Super visa is for parents and grandparents of Canadian or permanent residents who wish their family to visit Canada. This permit is valid for up to two years at a time with multiple visas valid for ten years. Also, in this type of Visa, an immigration officer will look at some factors. Such as your parent's or grandparent's ties to their home country; the purpose of their visit; their family and finances; the overall economic and political stability of the home country; and an invitation from a Canadian host. The invitation letter must contain: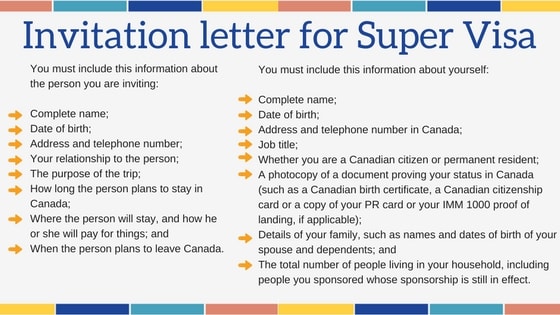 Also, for the Parent and Grandparent Super Visa, you must provide a written and signed promise of your financial support for your parents or grandparents for their entire stay in Canada. In addition, you need to prove that your income meets or is above the low-income cut-off (LICO) for the total number of people, including the visiting parents or grandparents.
The visitors also have to: prove that child or grandchild in Canada meets a minimum income threshold; provide a written statement from that child or grandchild that he or she will give you financial support; have valid Canadian medical insurance coverage for at least one year, and have an immigration medical exam.
Sponsoring Other Eligible Relatives
Other relatives may be eligible to be sponsored under special circumstances. They can immigrate to Canada as permanent residents if the sponsor is a Canadian citizen or permanent resident of Canada. Also, the sponsor must be 18 years or older and meet set income guidelines. In addition, the sponsor has to agree in writing to give financial support to your relative and any other eligible relatives coming with them for up to 10 years, depending on their age and how you are related. This period begins to be counted on the date they become a permanent resident. And there are two options for who can be sponsored, which are: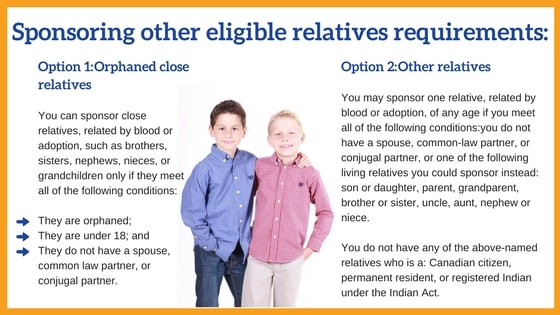 Fees and processing time
Each Family Sponsorship program has a specific processing time and a specific fee. Check the list of fees below:

How can we help you

(2 EASY STEPS)

?
1-Fill Mercan Group Free Assessment.
2-Check your email regularly and Wait for our professional immigration team to give a full assessment feedback on how to proceed and what are the next steps.
Let Mercan Group help your family
If you are a Canadian citizen or a permanent resident and want to bring a family member to live with you, Mercan Group can help. Mercan delivers expert service to reunite you with your family and children. For the past 25 years, Mercan Group has assisted families in bringing their parents and grandparents of different cultural backgrounds to Canada and explore the country on a Super Visa.
Also, if you want to join your family here in Canada, contact us to assist you and make the process easy and efficient for you.