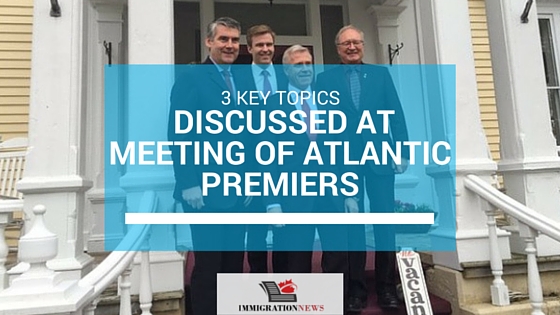 The premiers of Canada's four Atlantic provinces met in Annapolis Royal, N.S., on Monday.
P.E.I. Premier Wade MacLauchlan told CBC News the Council of Atlantic Premiers meeting focused on three key topics.
1. Population growth, immigration
Immigration remains a key factor for continuing the growth of Atlantic Canada's population, said MacLauchlan.
Much of the discussion at the meeting focused on keeping immigrants in the region after they've arrived.
"One of the main ways in which we're working on that is to learn from each other on how we can ensure that people who come here settle and stay," he said.
2. Aging population, health care
The recently-introduced health-care funding formula from Ottawa, which is based on population, is not working for Atlantic Canada, said MacLauchlan.
"Our four provinces are working together to make the case that because we have an older population, and we also have higher rates of chronic disease, that there should be an approach to health-care funding that takes account of those issues," he said.
The premiers are not yet in active negotiation with the federal government on this issue.
MacLauchlan said the premiers will meet again in July to further refine their strategy.
MacLauchlan said the council will not recommend a return to any previous funding formula, but will look ahead to a new plan.
3. Energy, climate change
New electricity cables under the Northumberland Strait will further integrate the Atlantic power grid.
MacLauchlan said the region has had success in generating renewable energy, and a more integrated grid could spread that success across the country.
"[We're] looking at Atlantic Canada as a region that could help Canada to deal with the reduction in greenhouse gases," said MacLauchlan.