12 must-read articles to celebrate Immigration News blog anniversary
Thanks to its generous immigration programs and high-standards of living, Canada is a cherished destination for those who search for a better life abroad. For those people like you that have the immigration dream, people that want to be a Canadian citizen or a permanent resident. And also for you that wants to work and study in Canada. It is because of you all that we exist.
The Immigration News blog is here to help you. And help you not only to stay well informed but also to discover new possibilities, to understand better what is the right program for you and what you can expect of Canada before you come. That is why we are here. That is why we always strive to bring varied articles, with reliable content and tips for you to prepare yourself in the best possible way for your immigration moment.
So, thank you for being here with us in this first two years. And to celebrate that and our two-year anniversary, we bring you a selection of 12 must-read articles that we published in 2017. These are some of our best articles separate by immigration class and chosen by relevance. We hope you enjoy!
Canada Immigration programs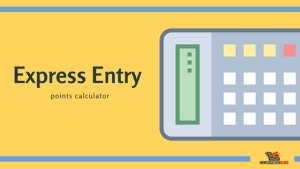 The Express Entry is one of the most famous programs to come to Canada as a skilled immigrant. Express Entry points system is named Comprehensive Ranking System (CRS). Eligible candidates are placed in a pool of candidates and are ranked using various factors, such as education, professional experience, language test, etc.  The higher you score, the more likely you will be invited you to apply. And applicants must qualify for at least one of the three programs: Canadian Experience Class, Federal Skilled Worker or Federal Skilled Trade Program.
Read the complete article here.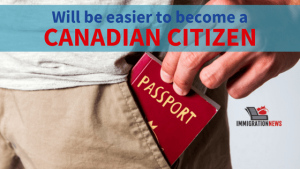 The Canadian Minister of Immigration, Ahmed Hussen, announced some good news. New legislative changes to the Citizenship Act (adoption of Bill C-6) will make easier and faster for Permanent Residents to get the Canadian Citizenship. The Canadian Citizenship changes are related to physical presence in the country and required age to meet knowledge and language criteria. These change came into effect on 11th October 2017 and is benefiting both younger and older eligible immigrants.
Read the complete article here.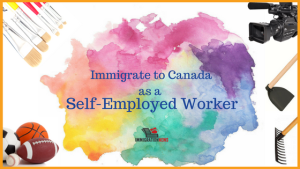 Immigrating to the Great White North is a dream for lots of workers all over the world. But many of these workers don't know that if they have a previous relevant experience in the cultural/artisanal, athletic (at an international level) or agricultural areas, they might be eligible to immigrate to Canada in the Federal Self-Employed Program. And since they want to come as self-employed workers, no job offer is required. But among other requirements, candidates must have at least two years of professional experience in these areas. Check the full list, according to the National Occupational Classification (NOC), inside this article.
Read the complete article here.
Check if you are eligible to work in Canada
Work permit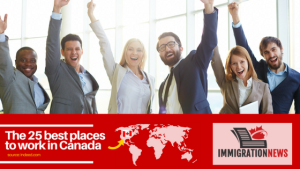 Whether as a temporary or permanent worker, people from all over the world are looking for jobs on a daily basis to work in Canada. And Canada's job market is doing fine these days. About 350,000 new employs were created over the last year, and the unemployment rate dropped 6.5 percent in June 2017. This is the lowest level registered since 2008. And to help candidates, we published a list of the 25 best places to work in Canada.
Read the complete article here.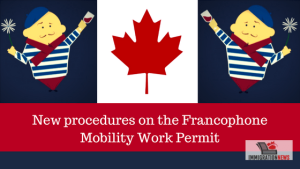 Launched just over a year ago, the Francophone Mobility Work Permit brings news. Although recruitment through a "francophone immigration promotional event coordinated between the federal government and francophone minority communities" is still encouraged by the Canadian government, it is no longer obligatory.
In practice, it means that processing a job offer for French-speaking foreign workers is now easier. Since the Canadian employer can now simply fill the Offer of Employment on through the Employer Portal.
Read the complete article here.
The restrictions on the H-1B American Visa for skilled workers outside America made the Tech Scene in Canada even more attractive to immigrants. Christy Clark, the Premier of the province of British Columbia, gave a clear message to Canadian and American companies about that: if the United States will not welcome the world's brightest programmers and engineers, so much the better for Canada. Also, with its proximity to technology areas like Seattle and San Francisco, Canada's western province —and especially the city of Vancouver – can be the biggest beneficiate with this new restrictive policy of America.
Read the complete article here.
Check if you are eligible to work in Canada
Student visa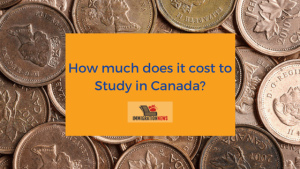 Canada has very affordable education fees in comparison to other developed countries. That is one of the reasons why college students are searching more for Canada instead of USA. And for an international student, the cost of studying in Canada and living expenses vary between $20,000 and $30,000, in Canadian dollars, per year.
But, have in mind that the cost of studying in Canada can change a lot depending on the enrolled program, institution, city and the standards of living expenses. Also, talking specifically about tuition fees for foreigner students, the costs vary across programs and provinces.
Read the complete article here.
More and more over the years, international students in Canada are likely to stay after graduation as permanent residents. The possibility to get a Post-Graduation Work Permit is one of the many reasons why people choose Canada for their study experience abroad. In addition, there is a governmental policy in the Atlantic Canada to improve international students retention rates.
Also, recently, Canada's government has launched some studies about international students performance on the job market after graduation. The studies basically reveal that previous work experience can make a big difference the incomes students will receive after graduation.
Read the complete article here.
Who better to answer that question than the students themselves? A research asked 17,000 students of Canadian universities across the country whether they feel prepared for the job market after graduation. That research is the second annual student survey by Maclean's magazine. The studies, published in 2017, included information about how often students of Canadian universities cheat on tests, how much time they study, party, work or do any type of extracurricular activities. As a result, the research gives a very broad panorama of student's life nowadays across Canadian universities.
Read the complete article here.
Check if you are eligible to study in Canada
Family Sponsorship programs
Canadian family reunification programs are internationally known for being very generous. Just on January 2017, Immigration, Refugees, and Citizenship Canada accepted 10,000 family sponsorship applications. That is because there are various ways to bring family members to immigrate to Canada too. Canadian citizen or a permanent resident can sponsor spouses or partners, dependent children, parents, and grandparents to become permanent residents as Family Class immigrants. Reuniting families is Canada's top immigration priority. Therefore, get to know the main Family Sponsorship programs in Canada.
Read the complete article here.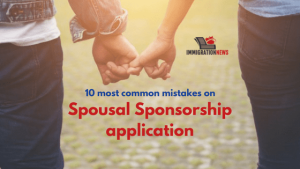 It is a sure thing that having a good immigration company by your side increases your chances to have any family reunification application accepted. As immigration experts make processes go faster and without any mistakes. But whether applying or not with a consultant, there is always important information to be revised before submitting. And when it is about Spousal Sponsorship application things can get really tricky. For example, the applicant is the person who wants to sponsor the spouse or the spouse? What is a good supporting document for this type of application? See the answers and much more inside the article.
Read the complete article here.
Canada's government recently revealed it's plan for immigration in the next following years. Besides all the big effort put in immigration through work, Canada also wants to improve the numbers of immigrants through the Family Class programs. For this reason, the government has been proposing some changes that will make processing time simpler and faster.
As published before, the target numbers for Family Reunification programs immigration are: 84,000 for 2017, 86,000 for 2018 (2.4 percent of increase), 88,500 for 2019 (3 percent of increase) and 91,000 for 2020 (3 percent of increase). Considering 2017 numbers, it means almost 350,000 new permanent residents in Canada by the year 2020.
Read the complete article here.
Check if you are eligible to Sponsor a Family member into Canada
Thank you for reading the Immigration News blog
Last, but not least, we would like to thank you again for staying with us during this past two years. We can't wait to bring you more immigration news in the years to come and help you to better understand the possible ways to immigrate to Canada.
And talking about good ways to immigrate, we always recommend you to hire experts to guide you through your application process, like Mercan Group. Mercan has the experience and expertise you need. From picking an immigration category to giving you all the preparation need and filing your application forms, Mercan will be there for you. Also, you can count on Mercan Group of Companies to help you preparing you for an interview with the Immigration Office and following up with the Visa. Contact them today.

How can Mercan help you

(2 EASY STEPS)

?
1-Fill Mercan Group Free Assessment.
2-Check your email regularly. Wait for the professional immigration team to give a full assessment feedback. And inform you about the next steps.
Subscribe To Our Newsletter
Join our mailing list to receive the latest news and updates from our team of immigration experts.